Hello! WELCOME TO TOP TEN TUESDAY. This is a weekly meme featured on The Broke and Bookish.
This feature was created because we are particularly fond of lists here at The Broke and the Bookish. We'd love to share our lists with other bookish folks and would LOVE to see your top ten lists!
Each week we will post a new Top Ten list that one of our bloggers here at The Broke and the Bookish will answer. Everyone is welcome to join. All we ask is that you link back to The Broke and the Bookish on your own Top Ten Tuesday post and, if you want to, add your name to the Linky widget on that day's posts (typically put up midnight EST on Tuesday) so that everyone can check out other bloggers lists! If you don't have a blog, just post your answers as a comment. Have fun with it! It's a fun way to get to know your fellow bloggers.
This Tuesday is: Best Books You've Read In 2017 So Far (break it down however you want — by genre, strictly 2017 releases, whatever!)
---
So, I've been on quite a long hiatus from reading this year, so this will be a relatively short compilation of 2017 books I've read since it's only 6 (my year goal is 50 so I have a long road ahead of me lol)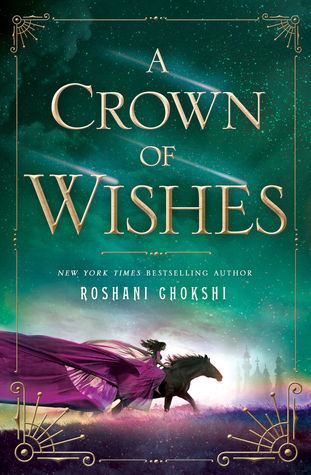 a crown of wishes by roshani chokshi
published: march 28th 2017
series: the star-touched queen series
amazon ・ barnes and noble ・ goodreads
An ancient mystery. An unlikely union. For one young princess in a state of peril, a dangerous wish could be the only answer…
She is the princess of Bharata—captured by her kingdom's enemies, a prisoner of war. Now that she faces a future of exile and scorn, Gauri has nothing left to lose. But should she trust Vikram, the notoriously cunning prince of a neighboring land? He promises her freedom in exchange for her battle prowess. Together they can team up and win the Tournament of Wishes, a competition held in a mythical city where the Lord of Wealth promises a wish to the victor. It seems like a foolproof plan—until Gauri and Vikram arrive at the tournament and find that danger takes on new shapes: poisonous courtesans, mischievous story birds, a feast of fears, and twisted fairy revels. New trials will test their devotion, strength, and wits. But what Gauri and Vikram will soon discover is that there's nothing more dangerous than what they most desire.
I didn't write a review for this book, and while I wish I had a good excuse for not doing so I was just feeling lazy tbh. I ended up rating it 3 stars, despite enjoying it more than it predecessor (which I believe I gave 4 stars to). The romance was more well developed and there was even a bit of humor incorporated in this book that I remember the first one was missing. However, Chokshi's writing is still as lovely as I remembered it being. This is a great book/series if you're in between books and in the mood for some romantic fantasy series with great writing and original world building.
---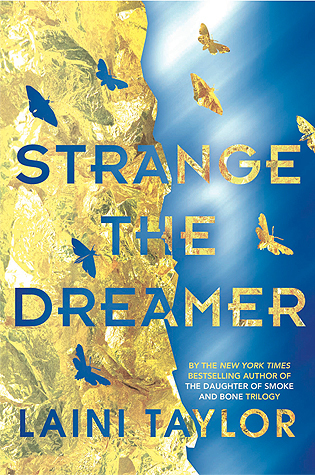 strange the dreamer by laini taylor
published: march 28th 2017
series: strange the dreamer series
amazon ・ barnes and noble ・ goodreads
The dream chooses the dreamer, not the other way around—and Lazlo Strange, war orphan and junior librarian, has always feared that his dream chose poorly. Since he was five years old he's been obsessed with the mythic lost city of Weep, but it would take someone bolder than he to cross half the world in search of it. Then a stunning opportunity presents itself, in the person of a hero called the Godslayer and a band of legendary warriors, and he has to seize his chance or lose his dream forever.
What happened in Weep two hundred years ago to cut it off from the rest of the world? What exactly did the Godslayer slay that went by the name of god? And what is the mysterious problem he now seeks help in solving?
The answers await in Weep, but so do more mysteries—including the blue-skinned goddess who appears in Lazlo's dreams. How did he dream her before he knew she existed? And if all the gods are dead, why does she seem so real?
Welcome to Weep.
I thoroughly enjoyed this story when I read it and although some of the magic has faded now, I would still recommend this one. Laini Taylor captured my attention with her Daughter of Smoke and Bone series and she continues to prove here that she is a chameleon when it comes to writing/creating new stories.
---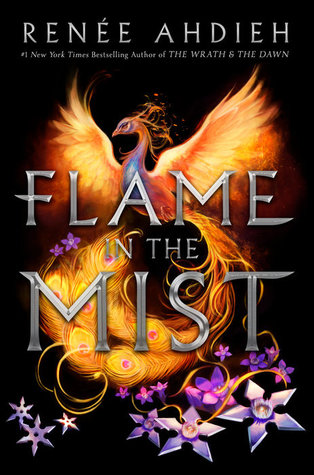 flame in the mist by renee ahdieh
published: may 16th 2017
series: flame in the mist series
amazon ・ barnes & noble ・ goodreads
The only daughter of a prominent samurai, Mariko has always known she'd been raised for one purpose and one purpose only: to marry. Never mind her cunning, which rivals that of her twin brother, Kenshin, or her skills as an accomplished alchemist. Since Mariko was not born a boy, her fate was sealed the moment she drew her first breath.
So, at just seventeen years old, Mariko is sent to the imperial palace to meet her betrothed, a man she did not choose, for the very first time. But the journey is cut short when Mariko's convoy is viciously attacked by the Black Clan, a dangerous group of bandits who've been hired to kill Mariko before she reaches the palace.
The lone survivor, Mariko narrowly escapes to the woods, where she plots her revenge. Dressed as a peasant boy, she sets out to infiltrate the Black Clan and hunt down those responsible for the target on her back. Once she's within their ranks, though, Mariko finds for the first time she's appreciated for her intellect and abilities. She even finds herself falling in love—a love that will force her to question everything she's ever known about her family, her purpose, and her deepest desires.
Now this is a story that has stuck with me since reading it. I'll admit, it has it's flaws. But this is the kind of story that even when you notice the flaws, you really can't find it within yourself to care. At least, that's what I experienced. Definitely keeping an eye on this series and on this author!
---
it ends with us by colleen hoover
published: august 2nd 2016
series: standalone
amazon ・ barnes and noble ・ goodreads
SOMETIMES THE ONE WHO LOVES YOU IS THE ONE WHO HURTS YOU THE MOST
Lily hasn't always had it easy, but that's never stopped her from working hard for the life she wants. She's come a long way from the small town in Maine where she grew up – she graduated from college, moved to Boston, and started her own business. So when she feels a spark with a gorgeous neurosurgeon named Ryle Kincaid, everything in Lily's life suddenly seems almost too good to be true.
Ryle is assertive, stubborn, and maybe even a little arrogant. He's also sensitive, brilliant, and has a total soft spot for Lily, but Ryle's complete aversion to relationships is disturbing.
As questions about her new relationship overwhelm her, so do thoughts of Atlas Corrigan – her first love and a link to the past she left behind. He was her kindred spirit, her protector. When Atlas suddenly reappears, everything Lily has built with Ryle is threatened.
With this bold and deeply personal novel, Colleen Hoover delivers a heart-wrenching story that breaks exciting new ground for her as a writer. It Ends With Us is an unforgettable tale of love that comes at the ultimate price.
This book contains graphic scenes and very sensitive subject matter.
Graphic scenes and sensitive subject matter, indeed. There is a great deal to learn and take from this book. I'm still hit with The Feels just thinking about It Ends with Us. I didn't give it a great rating, but the message is important and one I think everyone and anyone can benefit from.
---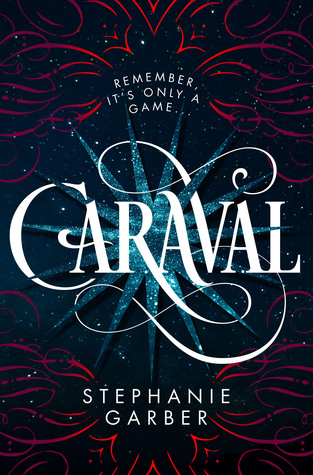 caraval by stephanie garber
published: january 31st 2017
series: caraval series
amazon ・ barnes and noble ・ goodreads
Remember, it's only a game…
Scarlett Dragna has never left the tiny island where she and her sister, Tella, live with their powerful, and cruel, father. Now Scarlett's father has arranged a marriage for her, and Scarlett thinks her dreams of seeing Caraval—the faraway, once-a-year performance where the audience participates in the show—are over.
But this year, Scarlett's long-dreamt-of invitation finally arrives. With the help of a mysterious sailor, Tella whisks Scarlett away to the show. Only, as soon as they arrive, Tella is kidnapped by Caraval's mastermind organizer, Legend. It turns out that this season's Caraval revolves around Tella, and whoever finds her first is the winner.
Scarlett has been told that everything that happens during Caraval is only an elaborate performance. Nevertheless she becomes enmeshed in a game of love, heartbreak, and magic. And whether Caraval is real or not, Scarlett must find Tella before the five nights of the game are over or a dangerous domino effect of consequences will be set off, and her beloved sister will disappear forever.
Welcome, welcome to Caraval…beware of getting swept too far away.
This book was wilding disappointing. It had all the ingredients for being a spectacular read, but somewhere along the line never made it past the "potential" phase. The ending, however, did open me up to the possibility of picking up the second book. Maybe.
---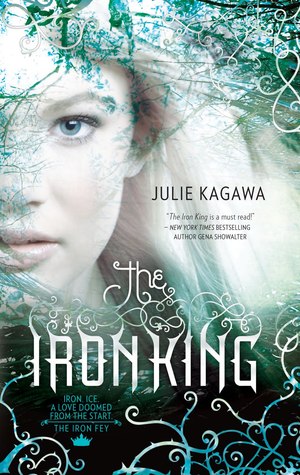 the iron king by julie kagawa
published: february 1st 2010
series: the iron fey series
amazon ・ barnes and noble ・ goodreads
Meghan Chase has a secret destiny; one she could never have imagined.
Something has always felt slightly off in Meghan's life, ever since her father disappeared before her eyes when she was six. She has never quite fit in at school or at home.
When a dark stranger begins watching her from afar, and her prankster best friend becomes strangely protective of her, Meghan senses that everything she's known is about to change.
But she could never have guessed the truth – that she is the daughter of a mythical faery king and is a pawn in a deadly war. Now Meghan will learn just how far she'll go to save someone she cares about, to stop a mysterious evil, no faery creature dare face; and to find love with a young prince who might rather see her dead than let her touch his icy heart.
This book was the worst. The end.
T H O U G T S ?