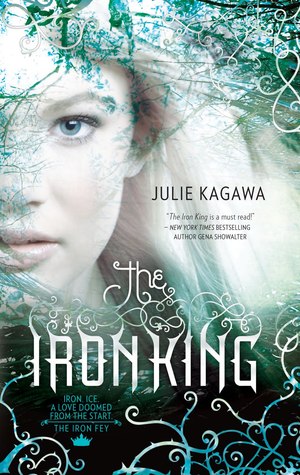 the iron king by julie kagawa
published: february 1st 2010
series: the iron fey series
amazon ・ barnes & noble ・ goodreads
Meghan Chase has a secret destiny; one she could never have imagined.
Something has always felt slightly off in Meghan's life, ever since her father disappeared before her eyes when she was six. She has never quite fit in at school or at home.
When a dark stranger begins watching her from afar, and her prankster best friend becomes strangely protective of her, Meghan senses that everything she's known is about to change.
But she could never have guessed the truth – that she is the daughter of a mythical faery king and is a pawn in a deadly war. Now Meghan will learn just how far she'll go to save someone she cares about, to stop a mysterious evil, no faery creature dare face; and to find love with a young prince who might rather see her dead than let her touch his icy heart.

---
.::RATING 1 STAR::.
*sees all the mixed reviews*
*decides to read book*
*finishes*
The Iron King was so, unironically bad. It read like a parody… except it wasn't. Which just made it cringey. Let me share with you just a few of the gems I found in this book.


The morning before my birthday, I woke up, showered, and rummaged through my dresser for something to wear. Normally, I'd just grab whatever clannish thing is on the floor, but today was special. Today was the day Scott Waldron would finally notice me.
I wish I weren't so poor. I know pig farming isn't the most glamorous of jobs, but you'd think Mom could afford to buy me at least one pair of nice jeans. Oh well, I guess Scott will have to be wowed with my natural grace and charm, if I don't make an idiot of myself in front of him.
Opening the cabinet doors, I scoured the boxes of cereal for the one I liked, wondering if Mom remembered to pick it up. Of course she hadn't. Nothing but fiber squares and disgusting marshmallow cereals for Ethan. Was it so hard to remember Cheerios?
"Yeah," I muttered, turning and lobbing the bagel into the trash can. It hit the wall with a thump and dropped inside, leaving a greasy smear on the paint. I smirked and decided to leave it.
Can we just talk about how fucking inconsiderate and obnoxious Meghan is???!! I mean, seriously?? Your mom is probably hard at work, just trying to keep food on the table and you clothed, and all you can think to say is damn, why can't my mom buy me some cute pants and Cheerios? And then defile the house as your passive aggressive revenge that said mom will have to clean up, on top of caring for a toddler and everything else she has to do? No wonder she can't afford to buy you nice jeans and Cheerios. She's too busy buying cleaning supplies to mop up after your fucking mess.

I'm not like "inflate-a-boob-" Angie, Ms. Perfect Cheerleader, who'd flip out if she saw a caged gerbil or a speck of dirt on her Hollister jeans. I've pitched hay and killed rats and driven pigs through knee-deep mud. Wild animals don't scare me.
The quotes go on and on. I'm going to spare you, and myself, from quoting every other problematic statement in this book. But it doesn't really get better. And cringey statements aside, the world-building is nonexistent, the MC sucks, the writing is okay (if a little clichéd), and the romance/love triangle is laughable. Like literally made me laugh. I could only get to about 75% before I started skimming to the end.