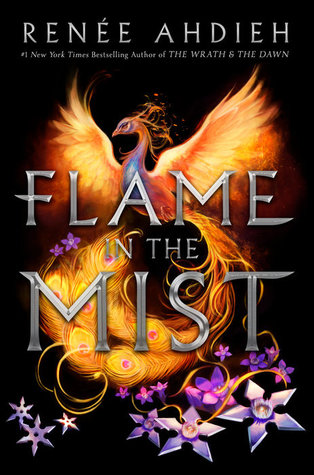 flame in the mist by renee ahdieh
published: may 16th 2017
series: flame in the mist #1
amazon ・ barnes & noble ・ goodreads
The only daughter of a prominent samurai, Mariko has always known she'd been raised for one purpose and one purpose only: to marry. Never mind her cunning, which rivals that of her twin brother, Kenshin, or her skills as an accomplished alchemist. Since Mariko was not born a boy, her fate was sealed the moment she drew her first breath.
So, at just seventeen years old, Mariko is sent to the imperial palace to meet her betrothed, a man she did not choose, for the very first time. But the journey is cut short when Mariko's convoy is viciously attacked by the Black Clan, a dangerous group of bandits who've been hired to kill Mariko before she reaches the palace.
The lone survivor, Mariko narrowly escapes to the woods, where she plots her revenge. Dressed as a peasant boy, she sets out to infiltrate the Black Clan and hunt down those responsible for the target on her back. Once she's within their ranks, though, Mariko finds for the first time she's appreciated for her intellect and abilities. She even finds herself falling in love—a love that will force her to question everything she's ever known about her family, her purpose, and her deepest desires.
---
.::RATING 4.5 STARS::.
 For at least this one last day. She would face her enemy. And die with honor.
I love when a book exceeds my expectations. Mulan is one of my favorite (if not my favorite) Disney princesses so this book had a lot to live up to in my mind. I think why Flame in the Mist captivated me the way it did was because it was a very loose retelling of Mulan. It borrowed a few themes and ideas but the story was almost entirely original. And those twists man… *clutches heart* … those twists.
There were a few faults but to be quite frank, I didn't really care about them. There are ones that you notice after you finish reading and have had a few hours to pick apart the story. While I was reading, though, I was so enthralled with what was going on and what was going to happen that I hardly remember to breathe, let alone conduct a deep analysis on the story.
That being said, I wish a little more would have gone into the world building. There's enough that you don't feel a gaping hole in the tale, but not enough to really enrich the reading experience. And one aspect of Mulan I was missing was, even though I told myself I shouldn't because there are different ways to be skilled, was the battle prowess. Mariko isn't especially skilled, even towards the end, however she is incredibly intelligent and cunning and I don't know why I'm complaining. I guess I just my characters to being special snowflakes. I know, it's a character flaw (in me).
Anyway, by the time I was able to come up with those flaws I found in the book, Flame in the Mist had consumed my thoughts for so long that I had to think, does it really matter? One of the main ways I measure how I'm going to rate a book is by how well I think I'll remember it (if at all, I have most garbage memory). Because if I don't remember that I even read the book in a few months from now, was it really worth the stars.
In this case, yes. It's worth every.
P.S. i am Ōkami trash.
But she returned his embrace. Returned each of his kisses. Every touch. Until nothing at all existed between them.
And unspoken promises.
Lies.
And unshakable truth.
T H O U G H T S ?