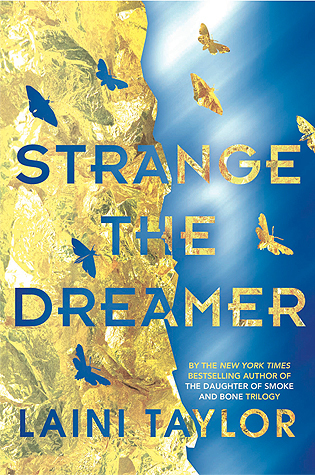 strange the dreamer by laini taylor
published: march 28th 2017
series: strange the dreamer #1
amazon ・ barnes and noble ・ goodreads
The dream chooses the dreamer, not the other way around—and Lazlo Strange, war orphan and junior librarian, has always feared that his dream chose poorly. Since he was five years old he's been obsessed with the mythic lost city of Weep, but it would take someone bolder than he to cross half the world in search of it. Then a stunning opportunity presents itself, in the person of a hero called the Godslayer and a band of legendary warriors, and he has to seize his chance or lose his dream forever.
What happened in Weep two hundred years ago to cut it off from the rest of the world? What exactly did the Godslayer slay that went by the name of god? And what is the mysterious problem he now seeks help in solving?
The answers await in Weep, but so do more mysteries—including the blue-skinned goddess who appears in Lazlo's dreams. How did he dream her before he knew she existed? And if all the gods are dead, why does she seem so real?
Welcome to Weep.
---
.::RATING 4 STARS::.
Nothing says you've finished a great book like having to scrape yourself back into reality like the roadkill Laini Taylor left you as.
(nothing sells a book more than the mention of roadkill, amirite?)
**edits are my own. originals found on pinterest**
While it's been quite a few years since I've read Daughter of Smoke & Bone series and have a… how do you say… shitty? failing? good-for-nothing? memory, I was surprised to find how different Strange the Dreamer and Taylor's other series was. And in a good way. Sometimes, especially in YA for some reason, a work so obviously belongs to an author. Ideas, themes, even phrases are recycled and this isn't necessarily bad. I just thought it was noteworthy how this book felt so original and so different from her previous works.
Or you know, it could just be my traitor of a memory.
Some things, however, stay the same and that would be Laini Taylor's writing. She has a knack for storytelling. I've read books where I was painfully aware that I was reading. That my eyes were skimming letters, flipping pages, and basically going through the motions while my mind was mulling whether to wash my hair today or not. That's not the case here. Taylor's writing (sidenote: I literally just wrote "righting" and almost inhaled & choked on my gum) is utterly captivating.
All I can say is that the twists were great, the romance (as sappy as it could be at times) thawed my heart, and the ending was, you know… roadkill-ish.
T H O U G H T S ?