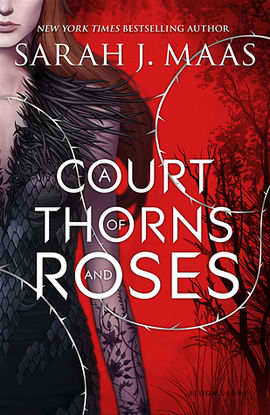 a court of thorns and roses by sarah j maas
published: may 5th 2015
genres & keywords: fantasy, new adult, romance
series: a court of thorns and roses #1
amazon ・ barnes & noble ・ goodreads
A thrilling, seductive new series from New York Times bestselling author Sarah J. Maas, blending Beauty and the Beast with faerie lore.
When nineteen-year-old huntress Feyre kills a wolf in the woods, a beast-like creature arrives to demand retribution for it. Dragged to a treacherous magical land she only knows about from legends, Feyre discovers that her captor is not an animal, but Tamlin—one of the lethal, immortal faeries who once ruled their world.
As she dwells on his estate, her feelings for Tamlin transform from icy hostility into a fiery passion that burns through every lie and warning she's been told about the beautiful, dangerous world of the Fae. But an ancient, wicked shadow over the faerie lands is growing, and Feyre must find a way to stop it . . . or doom Tamlin—and his world—forever.
Perfect for fans of Kristin Cashore and George R. R. Martin, this first book in a sexy and action-packed new series is impossible to put down!
---
.:: RATING 2 STARS ::.
I could do nothing as his mouth met with my cheek, and he licked away a tear. His tongue was hot against my skin, so startling that I couldn't move as he licked away another patch of salt water, and then another.
That did more for me than any of Tamlin's ministrations. What kept this from absolutely tanking? Two things:
‣ Rhysand
‣ The utter amusement I felt at the characters' suffering actions
Sarah J. Maas knows how to write. It's evident from the first page that she has a wonderful storytelling ability. However, the plot was even more boring the second time around. The fact that I couldn't remember a single detail before starting my reread alone speaks volumes at how memorable A Court of Thorns and Roses was. I could not have cared less about Feyre and her plight if my life depended on it.
So why am I giving this 2.5 stars? Rhysand was one dark, seductive hot potato that I cannot wait to read more about and the last 80%, where all the suffering happens, was entertaining. I felt that Feyre and Rhysand had more of a connection and attraction than any amount of I-love-yous and sexayy scenes between Feyre and Tamlin could convince me otherwise.
So I will read on.
For Rhysand.
And for the suffering.
T H O U G H T S ?