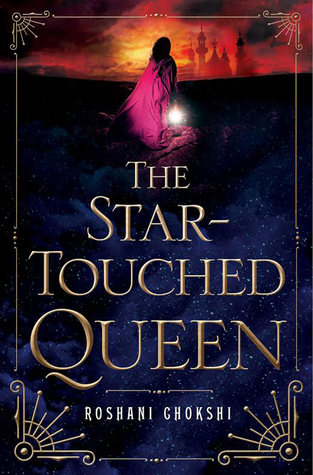 the start-touched queen by roshani chokshi
published: april 26th 2016
genres & keywords: fantasy, young adult, romance
series: the star-touched queen #1
amazon ・ barnes & noble ・ goodreads
Fate and fortune. Power and passion. What does it take to be the queen of a kingdom when you're only seventeen?
Maya is cursed. With a horoscope that promises a marriage of death and destruction, she has earned only the scorn and fear of her father's kingdom. Content to follow more scholarly pursuits, her whole world is torn apart when her father, the Raja, arranges a wedding of political convenience to quell outside rebellions. Soon Maya becomes the queen of Akaran and wife of Amar. Neither roles are what she expected: As Akaran's queen, she finds her voice and power. As Amar's wife, she finds something else entirely: Compassion. Protection. Desire…
But Akaran has its own secrets—thousands of locked doors, gardens of glass, and a tree that bears memories instead of fruit. Soon, Maya suspects her life is in danger. Yet who, besides her husband, can she trust? With the fate of the human and Otherworldly realms hanging in the balance, Maya must unravel an ancient mystery that spans reincarnated lives to save those she loves the most…including herself.
---
.:: RATING 4 STARS ::.
The threads called, and I answered–it was too late to turn back now.
The Star-Touched Queen was a book that called to me. Having grown up on greek mythology and being swept up by the folklore of Koshchei the Deathless, there was something about fantastical, romanticized "death" that always piqued my interest.


"That night, I dreamed of locked doors and baying hounds, rooms that were night-dark and a beast-king that smiled and laughed around a mouthful of broken stars to sing one phrase over and over: I know the monster in your bed."
The Star-Touched Queen was no different. I felt as if I was a child again, opening my giant book of mythology and being enthralled by its stories.


I wanted a love as thick as time, as inscrutable as if a lathe had carved it from night and as familiar as the marrow in my bones. I wanted the impossible…
This story is very much centered around the romance. If that's not your cup of tea, then this may not be for you. I, however, am always a slut for romance so I was more than okay with its set-up. Amar (auto-correct kept trying to change it to "amor" which is a sign right there) was just… the best. Not an asshole. Not unknowingly sexist.
10/10 would Amar again.


"My kingdom needs a queen." he said. "It needs someone with fury in her heart and shadows in her smile. It needs someone restless and clever. It needs you."
The Star-Touched Queen is shrouded in mystery and because of the book's unique storyline, it was impossible to guess what would come next. It was like a wild goose chase for answers and if there is one thing that will always keep me interested in a story, it's my need for answers.
I feel like this is a book that is either a hit or miss. You either love it or hate it. The writing can be beautiful and as magical as the story it conveys… or you can be like, what the hell is this saying? I was in the former category and truly felt like I was reading another fairytale. However, if you're not into the book, it can easily be too metaphoric or confusing or nonsensical.
While I wouldn't recommend this one to everyone, I certainly think there's an audience for it. Lots of romance, lots of mystery, and lots of magic. I solid read, indeed.
T H O U G H T S ?