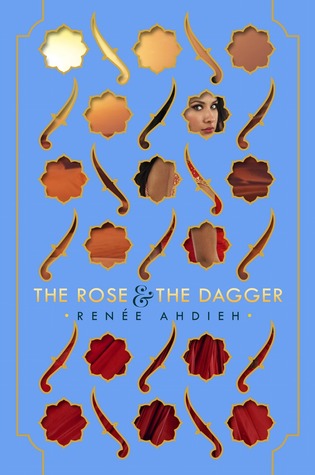 the rose and the dagger by renee adhieh
published: april 26th 2016
genres & keywords: fantasy, young adult, romance, retellings
series: the wrath and the dawn #2
amazon ・ barnes & noble ・ goodreads
The darker the sky, the brighter the stars.
In a land on the brink of war, Shahrzad is forced from the arms of her beloved husband, the Caliph of Khorasan. She once thought Khalid a monster—a merciless killer of wives, responsible for immeasurable heartache and pain—but as she unraveled his secrets, she found instead an extraordinary man and a love she could not deny. Still, a curse threatens to keep Shazi and Khalid apart forever.
Now she's reunited with her family, who have found refuge in the desert, where a deadly force is gathering against Khalid—a force set on destroying his empire and commanded by Shazi's spurned childhood sweetheart. Trapped between loyalties to those she loves, the only thing Shazi can do is act. Using the burgeoning magic within her as a guide, she strikes out on her own to end both this terrible curse and the brewing war once and for all. But to do it, she must evade enemies of her own to stay alive.
The saga that began with The Wrath and the Dawn takes its final turn as Shahrzad risks everything to find her way back to her one true love again.
---
.:: RATING 3.5 STARS ::.
Yes, that is live footage of my brain right now.


"Do you know why I adore roses? I've always loved them for their beauty and their scent, but—"
"It's because of their thorns. Because there's more to them than first meets the eye."
When I think about this book, I have a lot of good things to say about it. The writing is lovely–Renee Ahdieh has a beautiful style and a kind of poetic prose– and The Rose and the Dagger is filled with other stories (story-inception, if you will) that was just as entertaining as the main one. The romance was heartwarming, the characters easily one me over, and yet… something was missing.
It's not that I wasn't interested, because there were many twists and turns that kept me engaged but, sadly, this isn't a story I think will stay with me very long. I feel like the issues were resolved too easily and I never truly felt like everything wouldn't be alright in the end, save for one moment. I still haven't picked my jaw off the ground.
Maybe it was just me.
It probably was just me.
*shrugs*
I ♥ Khalid, though.
T H O U G H T S ?