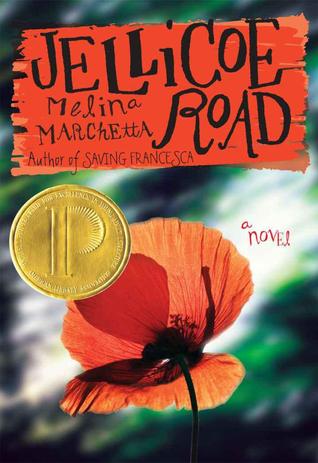 jellicoe road by melina marchetta
published: april 6th 2010
genres & keywords: young adult, romance, mystery
amazon ・ barnes & noble ・ goodreads
"What do you want from me?" he asks. What I want from every person in my life, I want to tell him. More.
Abandoned by her mother on Jellicoe Road when she was eleven, Taylor Markham, now seventeen, is finally being confronted with her past. But as the reluctant leader of her boarding school dorm, there isn't a lot of time for introspection. And while Hannah, the closest adult Taylor has to family, has disappeared, Jonah Griggs is back in town, moody stares and all.
In this absorbing story by Melina Marchetta, nothing is as it seems and every clue leads to more questions as Taylor tries to work out the connection between her mother dumping her, Hannah finding her then and her sudden departure now, a mysterious stranger who once whispered something in her ear, a boy in her dreams, five kids who lived on Jellicoe Road eighteen years ago, and the maddening and magnetic Jonah Griggs, who knows her better than she thinks he does. If Taylor can put together the pieces of her past, she might just be able to change her future.
---
.:: RATING 5 STARS ::.
A home to come back to every day of their lives.
Where they would all belong or long to be.
A place on the Jellicoe Road.
God, I could just sit here and sob all day.
(x)
For about 0.2 seconds, I thought I would make it out alive. Oh, how I wish I could have those 0.2 seconds back. Just so I wouldn't have to feel this ache in my heart.
It's really confusing at first. There's all the talk about territorial wars and people disappearing and a side story that I was having a hard to finding the relevance of for about 40% of the book. I would think to myself, "is this really what I was afraid of? Would I actually leave this book unscathed. Unmoved? And Marchetta then said, "let there be pain".


My mother deserted me at the 7-Eleven, hundred of kilometers away from home.
Hannah, however, did the unforgivable.
She deserted me in our own backyard.
I was right to be afraid of On the Jellicoe Road. I'm afraid of anything that makes me feel too much, so you'll only see me intentionally pick up a book like this once-in-a-never. But this book… gah, this book is just something else entirely. It's painful, it's raw, it's funny, it'll make you want to cry out at the injustice of it all, it'll leave you screaming why why why why.


"What do you want from me?" he asks.
What I want from every person in my life, I want to tell him.
More.
On the Jellicoe Road was faithful to life in the sense that not everyone gets the HEA they always dream of. To be honest, I don't think anybody does. But some less than others. Shit happens, life happens, and sometimes it's hard to pick your life back up. I wept over the lost promise of the future. I wept over the lives affected by tragedy. I wept for the broken friendships and the broken dreams. I wept for what could have been.


"Forgive me, Taylor Markham." Before I could ask him how he knew my name and what I was to forgive him for he said, "take care of my little girl."
And then he told me to close my eyes.
And I think I've been frightened to do just that ever since.
All I have to do is think about the ending to end up in tears again. Half of me is screaming to get my shit together and the other half, the half that's winning, is grieving. But it's not all doom-and-gloom and Jonah Griggs is sure to win your heart. Not even steal it, because you'll hand that sucker over to him everyday and twice on Sunday.
This is undeniably an incredible story. You don't just get the Printz award for nothing. You get it for excellence. For being impactful. And that's exactly what On the Jellicoe Road was.


"I remember asking, 'What's the difference between a trip and a journey?' and my father said, 'Narnie, my love, when we get there, you'll understand'."
I'm going to go finish crying now.
T H O U G H T S ?