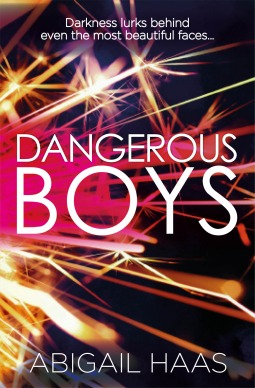 dangerous boys by abigail haas, abby mcdonald
published: august 14th 2014
genres & keywords: young adult, mystery, dark, thriller
amazon ・ barnes & noble ・goodreads
Three teens venture into the abandoned Monroe estate one night; hours later, only two emerge from the burning wreckage. Chloe drags one Reznick brother to safety, unconscious and bleeding; the other is left to burn, dead in the fire. But which brother survives? And is his death a tragic accident? Desperate self-defense? Or murder?
Chloe is the only one with the answers. As the fire rages, and police and parents demand the truth, she struggles to piece together the story of how they got there-a story of jealousy, twisted passion, and the darkness that lurks behind even the most beautiful of faces…
---
.:: RATING 4 STARS ::.
And I can't go back, I can't change a thing, I just have to decide, right now.
It's me, it's all on me.
So I choose.
*closes book*
*buries self under 10 blankets*
*tries to think about all the good there is in the world*
Dangerous Boys is dark and twisted and like a manifestation of your worst nightmares. But this is Abigail Haas, so what were you expecting? She takes the stuff from the darker recesses of your mind and publishes it.


From the moment you are born, people start folding you into neat pieces and tucking you inside a box of their own design.
Despite the similar names, this book is much different than Dangerous Girls. Some aspects are the same: there are dead bodies, lots of confusion, and an overwhelming need to figure out the truth. However, Abigail Haas has a way of spinning an entirely new and enthralling psychological thriller.
Dangerous Boys flickers between past and present, keeping you guessing until the very last page. While Dangerous Girls was like one bombshell after another, I'd describe this story more as… a series of really unfortunate events.


DISPATCH: Honey? Are you there? Talk to me.
(Silence)
CALLER: (Quiet) It's burning. Everything's on fire.
You've got three people.
One dead body. One burned house. Two survivors.
What happened and who made it out alive?
Verdict?
⇢ my heart is in pieces for a certain character who was honestly too good for this world
⇢ my mind is a mess of terrifying things
⇢ shock, so much shock
⇢ this book is a definite must-read
T H O U G H T S ?