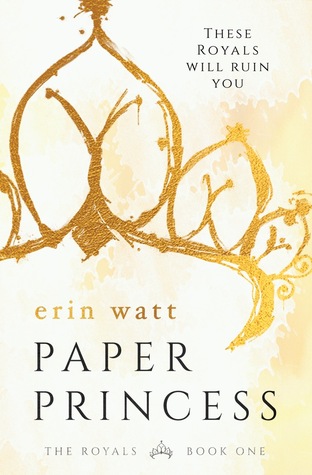 paper princess by erin watt, elle kennedy, jen frederick
published: april 4th 2016
genres & keywords: new adult, romance, contemporary
series: the royals #1
amazon ・ barnes & noble ・ goodreads
From strip clubs and truck stops to southern coast mansions and prep schools, one girl tries to stay true to herself.
These Royals will ruin you…
Ella Harper is a survivor—a pragmatic optimist. She's spent her whole life moving from town to town with her flighty mother, struggling to make ends meet and believing that someday she'll climb out of the gutter. After her mother's death, Ella is truly alone.
Until Callum Royal appears, plucking Ella out of poverty and tossing her into his posh mansion among his five sons who all hate her. Each Royal boy is more magnetic than the last, but none as captivating as Reed Royal, the boy who is determined to send her back to the slums she came from.
Reed doesn't want her. He says she doesn't belong with the Royals.
He might be right.
Wealth. Excess. Deception. It's like nothing Ella has ever experienced, and if she's going to survive her time in the Royal palace, she'll need to learn to issue her own Royal decrees.
---
.:: RAITNG 3 STARS ::.
THINGS WERE JUST TOO GOOD. TOO GOOD I FUCKING TELL YOU.
MAYBE ONCE YOU COULD HAVE FOOLED ME BUT I KNEW IT WAS COMING. I SAW THAT SHOE FROM A MILE AWAY. I KNOW HOW THIS LITTLE GAME GOES.
(x)
The worst part? I walked into this knowing there was a cliffhanger.
I promise you I'm not crazy. This rampage I'm going on right now is justified, trust me.
*attempts to get self under control*


Fate is for the weak–those people who don't have enough power or will to shape life into what they need it to be. I'm not there. I don't have enough power, but I will someday.
I just want to start off by saying that I had a lot of issues with Paper Princess. However, I want to follow that by saying that despite those issues, I was surprisingly hooked on it. It's like reality TV. Some of the events are outlandish, slightly unbelievable, and stereotypical.
Maybe it's because I wasn't raised in such opulence, but some of the things going on seemed a little too… much. You have the rags to riches story, equipped with rich, hot alpha-males who are assholes with ¡surprise! a soft side, and bitchy, beautiful mean girls. I've never heard of that story before.
BUT DAMMIT IF I WASN'T ADDICTED TO THIS DRAMA LLAMA.


I don't belong is splendor, I belong in squalor. That's what I know. It's what I'm comfortable with, because squalor doesn't lie to you. It's not wrapped in a pretty package. It is what it is.
I really liked Ella. You kind of have to, if you're going to enjoy this book. She's got a personality type that's either a hit or miss with you. She was strong, independent, unwilling to take shit from anybody, and a character you could easily root for. There were so many scenes where I was just internally cheering her on because she's pretty badass. And you know me, I'm always ready for a literary throw down.


"If you stay, we'll break you so bad that you'll be crawling away."
The Royal crew left me feeling more conflicted. Aside from Callum, who's such a sweetheart, the rest of the family are so far from decent human beings, especially in the beginning. Yet, I'm a weak person. I mean, that must be it because while by head is saying that they're assholes, my heart is much more sympathetic. Somehow, they managed to win me over with their overprotectiveness and family values. They're still assholes, though.
It's difficult not to get drawn in. It's like reality TV or a soap opera. A part of you is telling you that what's going on is bordering on ridiculous, and yet, you stay fixed on that TV couch lapping up the drama. The writing, while not amazing in that way that makes you able to quote everything if you wanted to, manages to tell the story in an enticing enough way that you're left screaming WHAT THE FUCK at the end.
So yeah, WHAT THE FUCK?
P.S. steam is at full throttle. 100% steam factor
T H O U G H T S ?