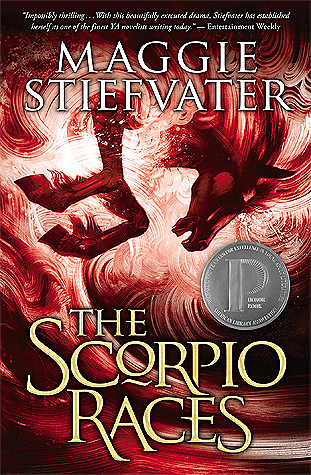 the scorpio races by maggie stiefvater
published: october 18th 2011
genres & keywords: fantasy, young adult, romance
amazon ・ barnes & noble ・ goodreads
It happens at the start of every November: the Scorpio Races. Riders attempt to keep hold of their water horses long enough to make it to the finish line. Some riders live. Others die.
At age nineteen, Sean Kendrick is the returning champion. He is a young man of few words, and if he has any fears, he keeps them buried deep, where no one else can see them.
Puck Connolly is different. She never meant to ride in the Scorpio Races. But fate hasn't given her much of a chance. So she enters the competition — the first girl ever to do so. She is in no way prepared for what is going to happen.
---
.:: RATING 4 STARS ::.
It is the first day of November and so, today, someone will die.
I think that, coming into The Scorpio Races right after I finished rereading The Raven Cycle, solidified my belief that Maggie Stiefvater is a versatile author.
(x)
Inevitably, I was comparing the two, which in hindsight I shouldn't have because I think it's almost an insult to say something like, "____ book is just like _____ book". However, these two stories are like apples and oranges.
The Raven Cycle ran on characterization and everything else followed in its wake. The Scorpio Races ran on the story and setting and then everything else followed. Both different. Both amazing.


What it's like is a battle. A mess of horses and men and blood. The fastest and strongest of what is left from two weeks of preparation on the sand. It's the surf in your face, the deadly magic of November on your skin, the Scorpio drums in the place of your heartbeat. It's speed, if you're lucky. It's life and it's death and it's both and there's nothing like it.
How do you not become enchanted by a description like that? Reading about the capaill uisce was its own kind of magic. Sean's respect and admiration for these creatures was infectious. Their eternal longing for the sea, their deadly speed, their beautiful mane of colors, it's no wonder humans decided to capture them (isn't that just like us?). For me, they made the story was it is.


This island is a cunning and secretive thing. I can't say what it has in planned for me.
If there is one thing you can count on, it's Maggie Stiefvater's stunning writing. She's a storyteller. Some authors can write, and some authors can tell a story. Stiefvater knows how to wrap you up in her tale and make you wish it were a reality.


…he's got one foot on the land and one foot in the sea.
Sean Kendrick.
♥.♥
Silent, pensive, and too old for the skin he's in, he's another thing that makes this story. Puck Connolly was likable, but Sean is where the magic's at. He's not a man of words, but a man of action and his love and appreciation for the capaill uisce really comes through.


I think every now and then about Sean's thumb pressed against my wrist and daydream about him touching me again. But mostly I think about the way he looks at me – with respect – and I think that's probably worth more than anything.
The romance between the characters in The Raven Cycle and The Scorpio Races was something else I couldn't help but compare. Where The Raven Cycle is fueled by inevitably and tension – gosh the tension – this was something else entirely. It was sweet and comforting. I hesitate to say "safe" because that's usually associated with "settling". It was different but no less… feel-worthy.


"The ocean knows your name, Sean Kendrick," she says. "Make another wish."
Honestly, you just have to experience this book for yourself. It's a change of pace, less witty and more somber, but a beautiful read nonetheless.
Also, for those who've read it, THAT LAST CHAPTER. So bittersweet *wipes at tears*
T H O U G H T S ?