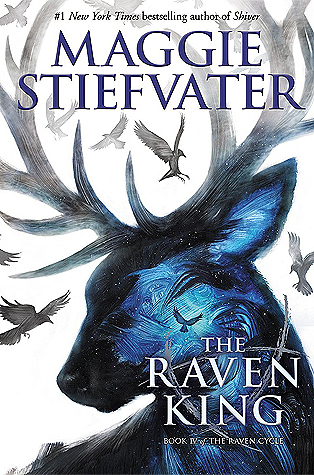 the raven king by maggie stiefvater
published: april 26th 2016
genres & keywords: fantasy, young adult, romance
series: the raven cycle #4
amazon ・ barnes & noble ・ goodreads
Nothing living is safe. Nothing dead is to be trusted.
For years, Gansey has been on a quest to find a lost king. One by one, he's drawn others into this quest: Ronan, who steals from dreams; Adam, whose life is no longer his own; Noah, whose life is no longer a lie; and Blue, who loves Gansey… and is certain she is destined to kill him.
Now the endgame has begun. Dreams and nightmares are converging. Love and loss are inseparable. And the quest refuses to be pinned to a path.
---
.:: RATING 5 STARS ::.
He said, "I think it's time to find Glendower."
Adam said, "I think you're right."
I'm sitting here now trying to string some decent words together, with dried tears on my cheeks, in hopes of being able to convey even a shred of the feelings warring inside me.
For three books, I have tried to describe exactly what this series means to me. And in those three attempts, I feel as if I have failed. At this point, its beyond words. It's more than happiness and sadness and the overwhelming feeling of wonder. It's all those things and none of those things and five starts just doesn't seem like enough.
Maggie Stiefvater has a way with words. Words that I've known for most my life and learned to string together. She manages to make something more of them. She fashions it into a story, and makes it sound like poetry. She takes everything you've ever felt and gives it a name.
The Raven King makes your heart pound and makes your heart stop. It makes you laugh and makes you have an impromptu sob session at 12:47am. The characters are everything, the story is everything and whatever the first three books were, The Raven King was more.


Outside of Henrietta, nestled on the ley line, something dark watched all this, everything in the Henrietta night, and said, I'm awake I'm awake I'm awake.
Everything is finally unraveling and coming together. This is definitely the creepiest book of them all. I'm a visual person, so I wouldn't exactly say I was scared. I mean, I was scared for Gansey's life and the state of my ships, but I wasn't scared in that horror movie kind of way. Because I'm a visual person. If this had been made into a movie of something, I would have been shitting myself into oblivion. If these things were actually happening to me, my ass would have been dead before Gansey could say Excelsior. However, I recognize creepiness when I read it, and this was creepy™.


"We should all be afraid," Noah said, his voice thing through the buzzing. "When you play with time –"
…you get Nightmare Fuel. Let's just call it what it is.


He was a king.
This was the year he was going to die.
TRK almost didn't feel real to me. I honestly, could hardly believe that I had the fourth and final book in my hand. I've never met a famous person, but I feel like it would be a lot like this. Like you just can't believe the person you've been watching on TV and seeing in magazines is actually in front of you, shaking your hand and asking if you'd like a picture. I couldn't believe that I was reading new content. In the beginning, I would just get a little jolt and think, wait… I haven't read this before. Because everything I new was from the first three books and it just wouldn't hit me that after months of wait and following Stiefvater's updates it was here.


Blue was filled with frustration that her life was so clearly demarcated.
Things that were not enough, but that she could have.
Things that were something more, that she couldn't.
It's almost too easy to be spellbound. The characters become dear to you– I mean, who can't relate to someone who's alway dreamt of more, or of being autonomous, or of being respected, or of being loved. You can easily find a bit of yourself in each character, or a bit of someone you want to become. Your mind buzzes with the characters and the endless possibilities. Of the fact that Gansey is going to die and two kisses have been written into the story and nothing will ever be like it once was.


Making Ronan Lynch smile felt as charged as making a bargain with Cabeswater. These weren't forces to play with.
Which brings me my next topic: THE SHIPS. Oh, the ships. Oh, my heart. I think the fact that Maggie Stiefvater wrote two kisses in The Raven King says enough.
Well, it really doesn't.
But that's all you'll get out of me. Its glory can't be replicated in a review, only experienced. Or non-glory. As I said, nothing from me.
Something Maggie Stiefvater wrote: I am really, really looking forward to the 26th, guys. I hope you love it or hate it, nothing in between.
Any author that encourages their readers to feel passionate about their story, whether it's passionately loving it or passionately hating it, is an author for me. Because the whole Raven Cycle experience just doesn't stop or begin with the books. The author and the fandom have been a huge part in making this an incredible adventure. With the fan art and the author's willingness to answer questions and interact with readers, it's difficult not to leave with a sense of excitement and satisfaction.
But more than anything, something Maggie Stiefvater wrote on her blog struck me the hardest. It was her reminder while she was writing the series. The worst thing that could happen to the characters is that they stop being friends. And while I was here worried for them individually or worried about them in their respective ships, I had never really thought about that. But I was hit with how true it was. Because what I couldn't stand more than anything, more than Gansey dying, Pynch not happening, or Henrietta falling off the face of The Raven Cycle planet, was them not being friends anymore. Because more than anything, this is a story about friends. Friends and magic. Would this be much without it?
I am just going to finish with this: Maggie Stiefvater is pressing down on the ORBMASTER that is my heart.


Depending on where you began the story, it was about this place: the long stretch of mountain that straddled a particularly potent segment of the ley line.
T H O U G H T S ?