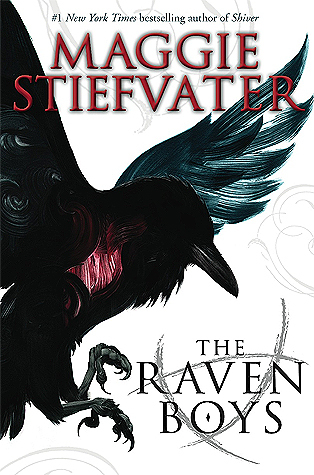 the raven cycle by maggie stiefvater
published: september 18th 2012
genres & keywords: fantasy, young adult, romance,
series: the raven cycle #1
amazon ・ barnes & nobles ・ goodreads
Every year, Blue Sargent stands next to her clairvoyant mother as the soon-to-be dead walk past. Blue never sees them–until this year, when a boy emerges from the dark and speaks to her.
His name is Gansey, a rich student at Aglionby, the local private school. Blue has a policy of staying away from Aglionby boys. Known as Raven Boys, they can only mean trouble.
But Blue is drawn to Gansey, in a way she can't entirely explain. He is on a quest that has encompassed three other Raven Boys: Adam, the scholarship student who resents the privilege around him; Ronan, the fierce soul whose emotions range from anger to despair; and Noah, the taciturn watcher who notices many things but says very little.
For as long as she can remember, Blue has been warned that she will cause her true love to die. She doesn't believe in true love, and never thought this would be a problem. But as her life becomes caught up in the strange and sinister world of the Raven Boys, she's not so sure anymore.
---
.:: RATING 5 STARS ::.
"There are only two reasons a non-seer would see a spirit on St. Mark's Eve, Blue. Either you're his true love or you killed him."
In Blue's case it's both. Because fate is a bitch tricky little thing.
I don't know how to put into words how much this book, this series, means to me. It's one of those stories that leaves you breathless. That leaves you wanting to unrepentantly commit the act of verbal diarrhea and a sway anyone with an ear to read this book. But at the same it, it makes you want to hold it close to your heart and keep it a secret. To be selfish.


"How much do you know about Welsh kings?"
I'll concede that reading The Raven Boys, and the other books for that matter, with fresh eyes will leave you with an aching hole in your heart. I mean, the damn feels this series has dredged up from my cold, heartless body is incredible. But it's nothing, NOTHING, like reading it the second time around. Because you know what's going to happen. I don't think I felt that sucker punch until I read this paragraph:


Impossibly, Blue realized that this other Blue was crying because she loved Gansey. And that the reason Gansey touched her like that, his fingers so careful with her, was because he knew that her kiss could kill him. She could feel how badly the other Blue wanted to kiss him, even as she dreaded it. Though she couldn't understand why, her real, present day memories in the tree cavity were clouded with other false memories of their lips nearly touching, a life this other Blue had already lived.
Why is it so powerful? Because I was there. I was the causal spectator watching these almost-touches and almost-kisses happen in future books. It's such a bittersweet feeling, to see the breadcrumbs laid out before you, and to know you were completely oblivious as you walked over them.
And let me tell you, I was SO oblivious. I thought I understood what was happening. I KNEW NOTHING. How I wish I could say that to my past self. There were just so many things I missed, so many thing Maggie Stiefvater LEFT RIGHT IN MY FACE, begging for me to grasp, and I went by oblivious as a toddler. Gosh, I was so clueless.


Ronan said, "I'm always straight."
Adam replied, "Oh man, that's the biggest lie you've ever told."
WHAT THE FUCK WAS I DOING WHEN I READ THIS THE FIRST TIME. I mean, seriously? How did I not pick up on the double entendre. Clueless, I tell you, clueless!
I'll never forget my first read of The Raven Boys and being thoroughly confused. I loved it, but without knowing exactly what I loved. I thought it was a little messy, the way the story was presented. As if I entered a conversation at its middle. And in a way, I did. Because now going back to the beginning, it's so clear to me how clever Maggie Stiefvater is. How purposeful and meaningful ever line, every word, is to the story.
In The Raven Boys, you'll find a smattering of well thought out, original characters, a plot so unlike anything you've ever read, and a writing that combines a quotable seriousness and wit that leaves you enthralled.
Last thoughts before moving on to The Dream Thieves:
Blue, you're my girl crush and everything I want to be
Gansey, you are my crush, period
Ronan, you are my everything. . . also a crush
Adam, most hate you but I love you
Noah, you're A Beautiful Cinnamon Roll Too Good, Too Pure
T H O U G H T S ?