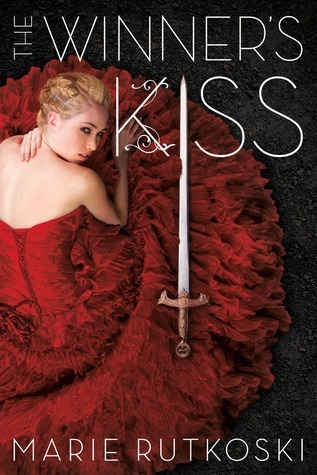 the winner's kiss by marie rutkoski
published: march 29th 2016
series: the winner's trilogy #3
genres & keywords: fantasy, young adult, romance
amazon | barnes & noble | goodreads
Some kisses come at a price.
War has begun. Arin is in the thick of it with untrustworthy new allies and the empire as his enemy. Though he has convinced himself that he no longer loves Kestrel, Arin hasn't forgotten her, or how she became exactly the kind of person he has always despised. She cared more for the empire than she did for the lives of innocent people—and certainly more than she did for him.
At least, that's what he thinks.
In the frozen north, Kestrel is a prisoner in a brutal work camp. As she searches desperately for a way to escape, she wishes Arin could know what she sacrificed for him. She wishes she could make the empire pay for what they've done to her.
But no one gets what they want just by wishing.
As the war intensifies, both Kestrel and Arin discover that the world is changing. The East is pitted against the West, and they are caught in between. With so much to lose, can anybody really win?
---
.::RATING 3.5 STARS::.
"It was him or you," he said softly. "You had to choose."
Her gaze fell to the wet grass beneath her, the wrapped bandage. She thought of her past. Her whole life. "I want better choices."
"Then we must make a world that has them."
The word I would use to describe how I feel after finishing The Winner's Kiss is content. It didn't absolutely stun me, as it had done to other readers, but I'm satisfied with the ending and it's undoubtedly a wonderful young adult trilogy.
The Winner's Kiss picks up where The Winner's Crime left off. I'm going to try to keep this a spoiler-free review, so those of you who read book 2 know the shitstorm we left off on. This was one of my most anticipated new releases because I just HAD to know what happened. It seemed like everything that could go wrong did and how the characters were going to work themselves out of that mess worked me into a frenzy.


She keeps her heart in a porcelain box, people whispered, and they were right.
She didn't like to open the box. The sight of her heart was unsettling.
Kestrel changed. There's no other way to say it; I felt like she was almost a completely new character. She described it best actually, the person that she is and the person that she was, the almost alien other person that she had memories of, were constantly warring with themselves.
I think a portion of the reason why this book didn't ~WOW~ me, was because I barely recognized Kestrel. Don't get me wrong, I wholeheartedly understand why she was so fundamentally changed, anyone would be after what she was subjected to. And maybe who she became in The Winner's Kiss was the person she was all along, free from her father, the emperor, and suppression. I told myself these things. Yet, I still couldn't connect with her like I had in the prior books.


You will be lonely, but you'll become strong. One day, you will have your revenge.
Arin . . .
*deep sigh*
Arin was damn near perfection. He's a Beautiful Cinnamon Roll Too Good For This World, Too Pure™. He was the perfect combination of bloodthirsty and strategic, yet humble and kindhearted.


She had done everything she could. And he didn't even know.
The tension, however, was still as heartbreaking and wonderfully frustrating as ever. It's so easy for you to want Arin and Kestrel to work. For them to be honest after all their deceit. To be together.


"Maybe," he said, "we could try being honest with each other."
She wondered what was in her expression that hope would grow in his. She wondered what he saw. "Arin," she said, "I like the dagger."
He smiled.
The writing was amazing. It became more and more refined in each book, to the point that you can quote anything and it sounds fucking incredible. Not a lot of authors have that gift. To be able to write a young adult romance with (plausible) politics, world-building, angst, and humor and not be a hot mess.
In its entirety, this is a series worth reading, for sure. I was a little underwhelmed by The Winner's Kiss, especially around the middle when I might have gotten just a wee bit bored *dodges tomatoes*, but The Winner's Trilogy still comes highly recommended.
.::MY REVIEW FOR::.
⚬ the winner's curse (book 1)
⚬ the winner's crime (book 2)
T H O U G H T S ?