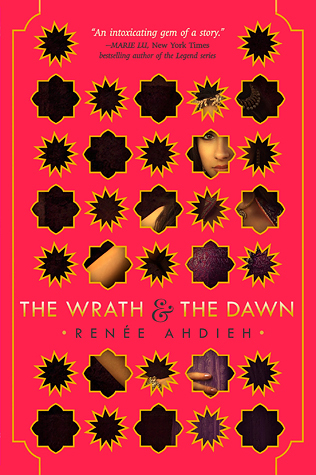 The Wrath and the Dawn by Renee Ahdieh
Published: May 12th 2015
Genres & Keywords: Fantasy, Young Adult, Romance, Retelling
Series: The Wrath and the Dawn #1
Amazon | Barnes & Noble | Goodreads
One Life to One Dawn.
In a land ruled by a murderous boy-king, each dawn brings heartache to a new family. Khalid, the eighteen-year-old Caliph of Khorasan, is a monster. Each night he takes a new bride only to have a silk cord wrapped around her throat come morning. When sixteen-year-old Shahrzad's dearest friend falls victim to Khalid, Shahrzad vows vengeance and volunteers to be his next bride. Shahrzad is determined not only to stay alive, but to end the caliph's reign of terror once and for all.
Night after night, Shahrzad beguiles Khalid, weaving stories that enchant, ensuring her survival, though she knows each dawn could be her last. But something she never expected begins to happen: Khalid is nothing like what she'd imagined him to be. This monster is a boy with a tormented heart. Incredibly, Shahrzad finds herself falling in love. How is this possible? It's an unforgivable betrayal. Still, Shahrzad has come to understand all is not as it seems in this palace of marble and stone. She resolves to uncover whatever secrets lurk and, despite her love, be ready to take Khalid's life as retribution for the many lives he's stolen. Can their love survive this world of stories and secrets?
Inspired by A Thousand and One Nights, The Wrath and the Dawn is a sumptuous and enthralling read from beginning to end.
---
I will live to see tomorrow's sunset. Make no mistake. I swear I will live to see as many sunsets as it takes.
And I will kill you.
With my own hands.
 (x)
There is no stopping this hype train. The Wrath and the Dawn has become a permanent fixture on my feed. I can't think of a time when someone wasn't reading it or reviewing it. And most people have only good things to say about it. So to read this book, and actually have it live up to the hype, well, I don't know what to say except that I'm hella surprised.


One hundred lives for the one you took. One life to one dawn. Should you fail but a single morn, I shall take from you your dreams. I shall take from you your city.
And I shall take from you these lives, a thousandfold.
The main reason The Wrath and the Dawn didn't get a five star out of me was because its beginning. I haven't been so utterly confused by an intro since I read Stephanie Meyer's The Host. Let me tell you, when I say the author just throws you into the thick of things, she throws you into the thick of things. I'd liken the feeling to picking up the third or fourth novel of a series, without having read its predecessors. For a good 50 pages or so, I was convinced I had either missed something or gotten a defective copy.


This boy-king, this murderer . . . she would not permit him to destroy another family. To rob another family. To rob another girl of her best friend–of a lifetime filled with memories that had been and never would be.
Right off the bat, it's pretty easy for you to hate Khalid. Shazi has such a burning hatred for him that it becomes infectious. For most of the story all Shiva, and you, know is that Khalid takes a new wife and every dawn he kills them. Easily hateable.
Except he isn't.


"What are you doing to me, you plague of a girl?" he whispered.
"If I'm a plague, then you should keep your distance, unless you plan to be destroyed." The weapons still in her grasp, she shoved against his chest.
"No." His hands dropped to her waist. "Destroy me."
Khalid is cold and standoffish and while it makes it difficult to relate to him at first, it also makes it all the more special when he cracks a smile and lets his guard down.


Her brows drew together. "What is it?"
"It's a fitting punishment for a monster. To want something so much–to hold it in your arms–and know beyond a doubt you will never deserve it."
I'm a goner for tortured heroes.
It was much harder for me to warm up to Shazi. Part of me liked her, liked her drive, her loyalty, her strong belief in family and friendships, but another part of me was irritated by her unceasing prickliness. Every comment was met by a sarcastic insult and there were a few moments when I found it annoying and inappropriate. As the story progressed, however, she began to grow on me and I found myself admiring her unwavering strength and bravery.


"How long should a man pay for his mistakes, sayyidi?"
Khalid did not hesitate.
"Until all debts are forgiven."
The reason for all the deaths, for the pain and suffering brought upon those who are chosen to marry Khalid and their families, is kept a mystery for most of the story. Like Shazi, I was possessed with the need to know the truth. Would it make him any less of a master? Is there any way to justify his actions? What I truly loved about Khalid was that he never made any excuses for his actions. Not once did he shift the blame. He always took full credit and responsibility for his actions, contributing to his ambiguous character. How do you come to terms with the monster that murders all these young girls with the man who carries so much pain, guilt, and self-loathing?
The world in The Wrath and the Dawn is described in such loving detail that it's incredibly easy to get lost in the story. You'll find excellent world-building and excellent writing. Everything from the characters, to the setting are given such vivid detail. I know very few will regret picking this one up!
T H O U G H T S ?