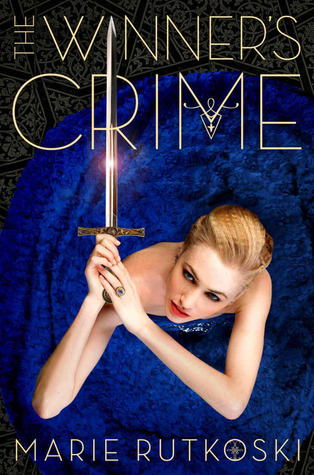 The Winner's Crime by Marie Rutkowski
Published: March 3rd 2015
Genres & Keywords: Fantasy, Young Adult, Romance
Series: The Winner's Trilogy #2
Amazon | Barnes & Noble | Goodreads
Book two of the dazzling Winner's Trilogy is a fight to the death as Kestrel risks betrayal of country for love.
The engagement of Lady Kestrel to Valoria's crown prince means one celebration after another. But to Kestrel it means living in a cage of her own making. As the wedding approaches, she aches to tell Arin the truth about her engagement… if she could only trust him. Yet can she even trust herself? For—unknown to Arin—Kestrel is becoming a skilled practitioner of deceit: an anonymous spy passing information to Herran, and close to uncovering a shocking secret.
As Arin enlists dangerous allies in the struggle to keep his country's freedom, he can't fight the suspicion that Kestrel knows more than she shows. In the end, it might not be a dagger in the dark that cuts him open, but the truth. And when that happens, Kestrel and Arin learn just how much their crimes will cost them.
---
I have made a grave mistake.
.

(x)
Let me just paint a picture for you.
It's 2:30am. I finish The Winner's Crime.
My first thought? I don't want to write a goddamn review for this book. Forget it, I'm just going to start reading the next one.
I go to buy the book.
I see pre-order.
It's the sleep deprivation making my eyes betray me.
No. It isn't.
The final book isn't, AS I HAD MISTAKENLY ASSUMED, out yet.
I cry myself to sleep.


"He did not want her to know.
He did not want her to see.
But:
Look at me, he found himself thinking furiously at her. Look at me.
She lifted her eyes, and did."
Book two picks up about a month after The Winner's Curse ends. Kestrel is engaged to the emperor's son, Arin is governor of the newly independent Valorian territory, and everyone is pretty much suffering.
A word of advice. Don't ship Kestrel and Arin. Because you will be miserable. I can't even call this a slow-burn kind of love. There is no word for what this is. I feel like Marie Rutkoski was like, you know what?
"If you won't be my friend, you'll regret being my enemy."
The Winner's Crime was a lot more political than the first book, and I loved it. While I thoroughly enjoy a character that knows how to physically kickass, there's nothing I find more exciting than a character that knows how to strategize. What can I say? I'm a slut for mind games.
Also, I think this book should've been called The Winner's Crime: A Handbook on Deteriorating Relationships because Holy Hell™ did things fall apart.
This series has a really good mix of world-building, character development, and prose that I think would make it a hit with almost anyone. It's incredibly easy to pick it up and just lose yourself in the story. You become so invested in the characters, in the politics, that Marie Rutkoski makes you feel as if you were the one she's writing about.
T H O U G H T S ?