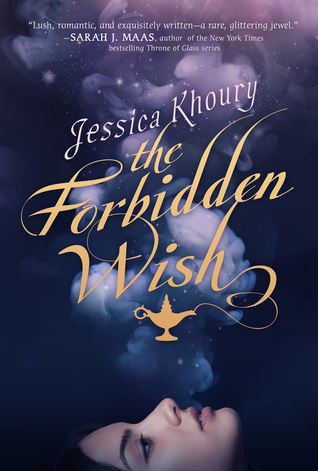 Published: February 23th 2016
Genres & Keywords: Fantasy, Romance, Young Adult, Retellings
Works From Author: Corpus series, The Last Witness
Amazon | Barnes & Noble | Goodreads
She is the most powerful Jinni of all. He is a boy from the streets. Their love will shake the world…
When Aladdin discovers Zahra's jinni lamp, Zahra is thrust back into a world she hasn't seen in hundreds of years—a world where magic is forbidden and Zahra's very existence is illegal. She must disguise herself to stay alive, using ancient shape-shifting magic, until her new master has selected his three wishes.
But when the King of the Jinn offers Zahra a chance to be free of her lamp forever, she seizes the opportunity—only to discover she is falling in love with Aladdin. When saving herself means betraying him, Zahra must decide once and for all: is winning her freedom worth losing her heart?
As time unravels and her enemies close in, Zahra finds herself suspended between danger and desire in this dazzling retelling of Aladdin from acclaimed author Jessica Khoury.
---
R A T I N G  ★★
Me: "You know, I'm not really feeling this on–"
Everyone else:
*cricket sound*
*tumbleweed billows through arid landscape*
Me: "Nope, I'm still really not feeling this one.
You know what the thing about highs are? You eventually crash. And that's just what happened. I had been riding the 4 & 5 star wave. Book after book managed to impress me and I just knew the day would come when they mighty would fall.
Well, I have fallen.
I know many will disagree with me, seeing as The Forbidden Wish was immensely popular amongst friends and other readers. But I'm just going to power through and hope I don't get hate mail or a dead rodent on my doorstep.
I'm going to boil it down to the main things: (for me) there was a lack of world-building, I couldn't connect to the characters or writing, and everything seemed to unfold a little too perfectly for my tastes. And let me tell you, I ship everything. Anybody who knows me can tell you, you give me a ship and I'll fucking sail that thing until the end of time. I. SHIP. EVERYTHING. But I honestly couldn't care less about Aladdin and Zahra, and that right there is a bad sign.
I just couldn't get into anything. Why? There was too much going on. The love story, the insurgency, Aladdin's revenge, the royals' internal battles. As the great Ron Swanson once said,
.
(x)
T H O U G H T S ?