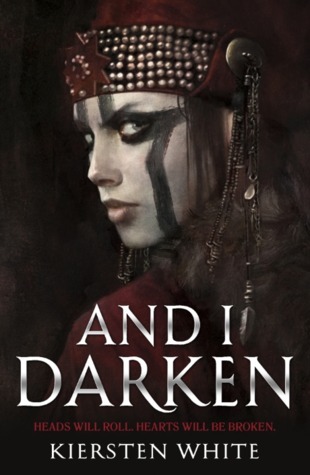 And I Darken by Kiersten White
Expected Publication: July 7th 2016
Genres & Keywords: Fantasy, Adult, Romance, Retellings
Series: The Conquerors Saga #1
Amazon | Barnes & Noble | Goodreads
No one expects a princess to be brutal. And Lada Dragwyla likes it that way.
Ever since she and her brother were abandoned by their father to be raised in the Ottoman sultan's courts, Lada has known that ruthlessness is the key to survival. For the lineage that makes her and her brother special also makes them targets.
Lada hones her skills as a warrior as she nurtures plans to wreak revenge on the empire that holds her captive. Then she and Radu meet the sultan's son, Mehmed, and everything changes. Now Mehmed unwittingly stands between Lada and Radu as they transform from siblings to rivals, and the ties of love and loyalty that bind them together are stretched to breaking point.
The first of an epic new trilogy starring the ultimate anti-princess who does not have a gentle heart. Lada knows how to wield a sword, and she'll stop at nothing to keep herself and her brother alive.
---
And so she cut her heart out and offered it as a sacrifice. She would pay whatever price her mother Wallachia demanded.

*correction: woman. there is a reflection of a sad and lonely woman in my soup
I cannot wait to see what kind of review I manage to scrape together. You'll only see the finished product, but I just want to document that I'm here, listening to slow, depressing music. Feeling… well, slow and depressed. Staring at a blank computer screen for *checks watch* 23 minutes now. So I'm going to go die for a little bit and then see what I can come up with.
I went into And I Darken with less than zero expectations. I saw it around Goodreads, found it on Netgalley, and the rest is history. I tried reading the blurb and honestly, you could've quizzed me in that second about it and I would have Christmas-treed it.
So let me tell you, I did not expect to walk into this kind of fuckery. The kind where, I stop noticing it after a while. I think back to what I read and I am more than horrified that some things didn't give me a pause. I think this book broke me. In more ways than one, mind you.


Though Lada did not know what would happen, she way certain of two things:
It would hurt, and she would need to be strong.
That pretty much her life motto. She's fierce in everything.
Fiercely loyal.
Fiercely protective.
Fiercely insane.
And sometimes it pissed me off. Sometimes, I just wanted her to be selfish or selfless or both or neither. That made no sense, but neither do my feelings for this book. She always felt like she had to be strong. To protect her family and to protect her country.
And she might have been a little evil. Smart, but evil. She makes you agree with her thinking and then feel shitty about it because it's a ruthless brand of thinking. It's like those people who say a mass plague would be good because it would hinder the overpopulation of the earth. Like, is it true? Yes. Are we still talking about the death of hundred of thousands of people? Yes. It makes a twisted sort of sense and it's just shitty.


"The price of living seems to always be death." Tohin stood, joints popping audibly. "And that is why you become a dealer of death. You feed death as many people as you can to keep it full and content so its eye stays off you."
Is that not the worst? When I read that I didn't even blink. And I Darken gets into your head and leaves you thinking, what the hell have I become???
Radu smiled his best, most innocent smile. The smile without guile, the smile that said, Tell me your secrets, no harm will come, the smile that said, There is nothing more to me than what you see, trust me, trust me.
Radu could be considered the very opposite of Lada. He's psychically weak, outwardly compassionate, but with a sharp and convincing mind when he sets himself to it. Lada was fierce, but Radu was fierce in his own right. In a world of deception and violence, it takes someone special to be kind and compassionate.


He embarrassed no one. He remained unnoticed and invisible. It was, apparently, both the least and the most he could do for his father.
More than being horrified by all their actions, I sympathized with them. It's a harsh world to grow up in and my heart broke at how violent and unyielding their childhood was. I yearned for the simpler times, when it was Mehmed, Lada, and Radu against the world. But things change. Feelings change. They always do. And when the weight of duty (
When I failed to retain any information on And I Darken prior to reading, I also failed to prepare myself for the angst. I literally found myself rubbing my chest at odd times because this book caused me physical pain.
She did not have to accept only what was offered to her. She would take what should be hers.
I don't feel like this is a spoiler, however, it's in the tags anyway [start of spoiler] One thing I absolutely loved was the LBGT representation. Especially, the 'L' part. I've read SO many books that include gay men… and only gay men. I've seen very little lesbian representation and it was awesome to finally see some. Don't get me wrong, I think including gay characters is wonderful, but why leave out women? It reminds me of a teacher I had that accepted gay men yet refused to believe lesbians existed. How does that even make sense? [end of spoiler] (highlight area to view)
This book is definitely recommended. Let me assure you, if And I Darken doesn't kill you, the wait for book 2 will. See you on the other side.
*ARC provided by the publisher via Netgalley in exchange for an honest review*
T H O U G H T S ?