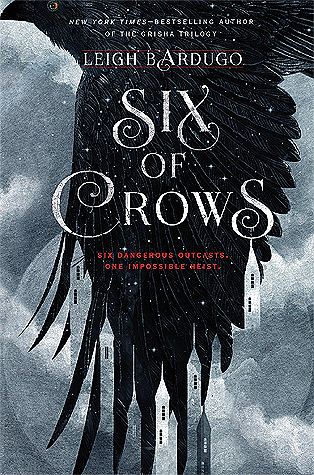 Published: September 25th 2015
Genres & Keywords: Fantasy, Young Adult, Romance
Works From Author: Six of Crows series, The Grisha trilogy
Amazon | Barnes & Noble | Goodreads
Ketterdam: a bustling hub of international trade where anything can be had for the right price—and no one knows that better than criminal prodigy Kaz Brekker. Kaz is offered a chance at a deadly heist that could make him rich beyond his wildest dreams. But he can't pull it off alone…
A convict with a thirst for revenge.
A sharpshooter who can't walk away from a wager.
A runaway with a privileged past.
A spy known as the Wraith.
A Heartrender using her magic to survive the slums.
A thief with a gift for unlikely escapes.
Kaz's crew are the only ones who might stand between the world and destruction—if they don't kill each other first.
---
R A T I N G ★★★★★
Oh the sweet, sweet agony that was that ending.
(x)
Six of Crows was just filled with . . . so much win. I don't even know where to start so I'm just going to jump right in.
One of this books greatest assets are its characters. The detail, the banter, the individualism . . . without it, I don't think Six of Crows would've been so captivating.
Are there:
⚬ Female characters that empower, protect, and/or support other female characters? ✓


"Nina is everything you say. It's too much."
"Mmm," Inej murmured, taking a sip from her mug. "Maybe you're just not enough."
⚬ Characters that break the young adult "mold", straying from the heteronormative narrative that so typically plagues YA novels? ✓


If only you could talk to girls in equations."
"Just girls?"
Jesper restrained a grin. "No. Not just girls."
⚬ Characters that aren't black and white, showing that yes you can be a "good" person and do bad things, and you can be a "bad" person and do good things? ✓
Color me impressed.
We get a nice Chex Mix of characters in this story. Very little is given to us in the beginning. But as you read on and gather questions like "why do they do this? why do they say that?", then and only then does the other begin to give you history.
As a reader, you want to bash your head in. As a reviewer, you can't help but tip your hat.
The only complaint I have is about Wylan. I kind of forgot that he existed for like, 1/3 of the book.
The plot and world-building is the icing on the characterization cake. From page one, Leigh Bardugo gets you hooked on jurda parem I mean, the storyline. Bad, Destini.
My heart was in my throat for about half of the book and while I'm pretty sure Six of Crows just shaved 10 years off my life, all I wanted to do was get to the next page.
You put a band of thieving, murderous, semi-amoral teenagers together, throw in a few million kruga and an impenetrable fortress . . . and you have a recipe for an amazing disaster.
Oh, and the humor guys. The humor. Kaz and Nina just about made my life. Let me tell you, that fasted way into my heart is some good banter.


"You're a blackmailer–"
"I broker information."
"A con artist–"
"I create opportunity."
"A bawd and a murderer–"
"I don't run whores, and I kill for a cause."
So with that said, I'm just going to take my ships (honestly, I've just about paired up everyone in this book) and pray the next book gets published soon.
T H O U G H T S ?