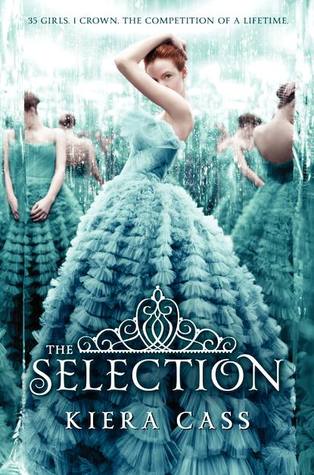 Published: April 24th 2014
Genres & Keywords: young adult, romance, fantasy
Works From Author: The Selection series
Amazon | Barnes & Noble | Goodreads
For thirty-five girls, the Selection is the chance of a lifetime. The opportunity to escape the life laid out for them since birth. To be swept up in a world of glittering gowns and priceless jewels. To live in a palace and compete for the heart of gorgeous Prince Maxon.
But for America Singer, being Selected is a nightmare. It means turning her back on her secret love with Aspen, who is a caste below her. Leaving her home to enter a fierce competition for a crown she doesn't want. Living in a palace that is constantly threatened by violent rebel attacks.
Then America meets Prince Maxon. Gradually, she starts to question all the plans she's made for herself—and realizes that the life she's always dreamed of may not compare to a future she never imagined.
---
R A T I N G ★★
Behold. . . my art. Prices start at a cool $1 million.
I'm just going to start off by saying The Bachelor/Bachelorette is a guilty pleasure of mine. I tune in every Monday at 8:00pm on ABC just to see it. I know, it's shameful.
But THIS. I have no words for what this was.
So, here's the dizzle (no autocorrect! I don't mean sizzle, fizzle, drizzle OR dazzle). The only thing that got me through to the end was my irritating need to know who she would end up with, and although you don't find out in this book, I have a good feeling of who it is.
That being said, The Selection was incredibly predictable. You're really not going to come across any surprises and the whisper of a plot doesn't create enough of a story to actually have surprises. Everything was so black and white. There is a clear line between who is "good" and who is "bad" and it made the characters flat.
America's voice (god, the names are just on another level) was too . . . young for me. I'm aware that this is a YA but, like Jessica said in one of her reviews, this was just too YA.
The world-building left something to be desired. I'm pretty sure we get somewhat of a history (I was probably skimming at this point) but nothing that really explains what's going on and how everything came to be. And when we did get a "history" lesson it was just so far-fetched.
Here's just a taste:


"I need confirmation that you are, in fact, a virgin."
Because it is illegal to have sex before you're married. But oh, if the prince asks you to do ANYTHING *winks uncontrollably* then you can't say no.

(x)


"I'm not some charity case, America. I'm a man. I'm supposed to be a provider."
#masculinitysofragile
He's definitely a keeper.
America Singer. Her talent? Take a guess.
The one I ended up in was a cream color. It fell of my shoulders, fit snugly at my waist, and hit just at my knees. The girl helping me into it called it a day dress. She told me that my evening dresses were already in my room, and the rest of these would go up there as well. Then she placed a silver pin near the top of my dress. My name glittered across it. Finally she put me into shoes she called kitten heals and sent me to the back corner so I could take my "after" shot. From there I was ordered to one of four little stations lined up against the wall. Each had a chair with a backdrop and a camera in front of it.
Hello, information dump.
Why is this two stars instead of one? Because I actually was interested in seeing who'd she end up with. There was some, but not much, motivation to get back to the book just so I could see who'd she choose.
T H O U G H T S ?