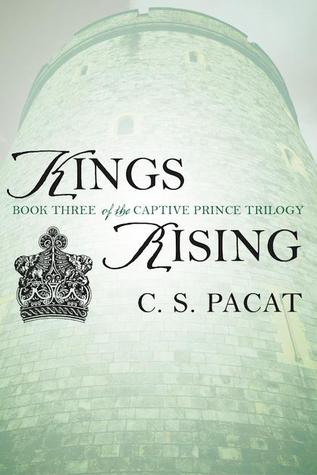 Published: February 2nd 2016
Genres & Keywords: fantasy, romance, adult, m/m
Works From Author: Captive Prince series
Amazon | Barnes & Noble | Goodreads
The epic conclusion to the internationally acclaimed Captive Prince trilogy.
Damianos of Akielos has returned.
His identity now revealed, Damen must face his master Prince Laurent as Damianos of Akielos, the man Laurent has sworn to kill.
On the brink of a momentous battle, the future of both their countries hangs in the balance. In the south, Kastor's forces are massing. In the north, the Regent's armies are mobilising for war. Damen's only hope of reclaiming his throne is to fight together with Laurent against their usurpers.
Forced into an uneasy alliance the two princes journey deep into Akielos, where they face their most dangerous opposition yet. But even if the fragile trust they have built survives the revelation of Damen's identity – can it stand against the Regent's final, deadly play for the throne?
---
R A T I N G ★★★★
.

(x)
The end is here and I'm not ready for it.


To gain everything and lose everything in the space of a moment. That is the fate of all princes destined for the throne.
As a whole, this series is amazing. The first 75% of Kings Rising is amazing. It's the last 25% that kinda just tanked over. But I'm just going to pretend it never happened. Because I refuse to believe the sap, gift wrapping, and melodrama that exploded on me belonged to this book.
This is a character driven series. The detail and life given to the characters, especially Laurent (insert heart eyes) is what fuels the story. You fall into the pages, desperate to learn what's going on, who's on your side, and what is behind Laurent's impenetrable façade (more heart eyes inserted here).
The world building could have been better but can be easily overlooked. After everything Damen and Laurent have suffered, after all the odds have been stacked against them, you're just desperate to learn whether anything can survive between them.
This is a series you definitely won't regret picking up.


"You were never a slave, Damianos. You were born to rule, as I was."
Rating: honestly, my mind says 3.5 but my love for Laurent says 4 so . . . Laurent wins.
T H O U G H T S ?