Hey there! WELCOME TO WISHLIST WEDNESDAY. This is a weekly meme featured on Pen to Paper.
Wishlist Wednesday is a book blog hop where we will post about one book per week that has been on our wishlist for some time, or just added (it's entirely up to you), that we can't wait to get off the wishlist and onto our wonderful shelves.
This Wendnesday I'm wishing for . . .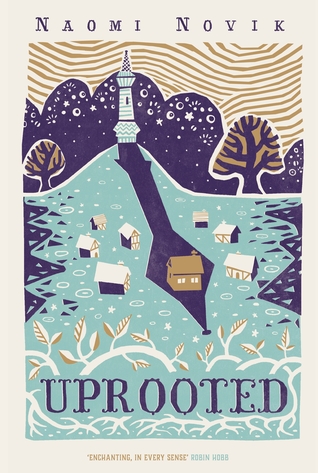 After going through thousands of five star reviews I just had to ask myself how Uprooted slid through my cracks. Retellings are right up my alley and I hear this is the holy grail of 'em all. As soon as I get my greedy hands on this book, I'll make sure to tell you if it lives up to its beaming reputation (although I'm sure it does!). This will be my first time reading a novel by Naomi Novik and if the reviews are anything to go by, it'll be an amazing experience. I can't wait to give it a try and get lost in the world of magic and dragons!
Published: May 21st 2015 by Macmillan
Genres & Keywords: fantasy, romance, young adult, fiction
Works From Author: Temeraire series
Amazon, Barnes & Nobles, Goodreads
Agnieszka loves her valley home, her quiet village, the forests and the bright shining river. But the corrupted wood stands on the border, full of malevolent power, and its shadow lies over her life.
Her people rely on the cold, ambitious wizard, known only as the Dragon, to keep the wood's powers at bay. But he demands a terrible price for his help: one young woman must be handed over to serve him for ten years, a fate almost as terrible as being lost to the wood.
The next choosing is fast approaching, and Agnieszka is afraid. She knows – everyone knows – that the Dragon will take Kasia: beautiful, graceful, brave Kasia – all the things Agnieszka isn't – and her dearest friend in the world. And there is no way to save her.
But no one can predict how or why the Dragon chooses a girl. And when he comes, it is not Kasia he will take with him.
WHAT'S ON YOUR WISHLIST WEDNESDAY? I'D LOVE TO HEAR YOUR THOUGHTS!