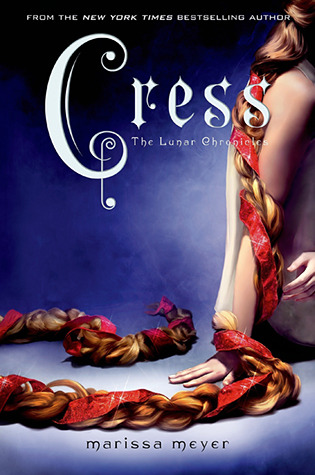 Cress by Marissa Meyer
Published: February 4th 2014 by Feiwel & Friends
Pages: 550 pages
Genres: Young Adult, Fantasy, Science Fiction, Romance, Dystopia
Part Of A Series? Yes! Cress is book three in The Lunar Chronicles
Other Books From Author: Heartless
Why Did I Choose This Book? THE NEEEEEEDDDD. The all consuming need I had to discover what was coming next. I can't tear my eyes away from this series!!
Amazon | Barnes & Nobles | Audible | Kobo | iBooks
SO, WHAT'S THIS ABOUT?
In this third book in the Lunar Chronicles, Cinder and Captain Thorne are fugitives on the run, now with Scarlet and Wolf in tow. Together, they're plotting to overthrow Queen Levana and her army.
Their best hope lies with Cress, a girl imprisoned on a satellite since childhood who's only ever had her netscreens as company. All that screen time has made Cress an excellent hacker. Unfortunately, she's just received orders from Levana to track down Cinder and her handsome accomplice.
When a daring rescue of Cress goes awry, the group is separated. Cress finally has her freedom, but it comes at a high price. Meanwhile, Queen Levana will let nothing prevent her marriage to Emperor Kai. Cress, Scarlet, and Cinder may not have signed up to save the world, but they may be the only hope the world has.
REACTION UPON FINISHING
MY THOUGHTS
"I will not be shackled to this satellite anymore."
5 days. 4 sleepless nights. 3 missed meals. Many ignored responsibilities. This was my journey with The Lunar Chronicles series. And I still want more. Need more.


If there was one thing Cress knew about heroes, it was that they could not resist a damsel in distress. And she was nothing if not in distress.
I thought I was going to like Cress (the character) but was disappointed to find out I didn't. The whole "damsel in distress" thing just wasn't working for me. She too naive and too helpless. I tried to be understanding, I mean I didn't expect her to have any jedi fighting skills handy after being stuck on a satellite for +7 years, and she was definitely tech savvy, but cowering behind others in a life-or-death fight was kind of a no for me. Towards the end, she did start to grow on me, though.
"Captain?"

"Yeah?"

"Do you think it was destiny that brought us together?"

He squinted and, after a thoughtful moment, shook his head. "No. I'm pretty sure it was Cinder."
Thorne is the best. Love, love, love, love him!! ♥ His humor, charm, wit . . . he's almost like the male version of Cinder, but with more charisma.
Despite not liking Cress too much in the beginning, I was rooting for them. Their playful banter and his protectiveness over Cress had me drooling all over myself.
*singsong* The bitch, the bitch, the bitch is . . . still not dead.
What does it take to get rid of her!!! Ugh. The satisfaction I get every time something pisses Queen Levana off is immense. If she's not happy, I'm happy.
Cress was told in multiple POVs, just like the previous two books. I was a little worried it would start to get confusing and a bit crowded with all the alternating perspectives but it was surprisingly organized and enhanced the story.
Some things:
• Cinder is still my favorite character in the series. Her awkward humor and break-the-mold character always adds to the books. I'm so glad we still get her POV and her story.
In Cress, we continue to see her struggle with her identity and the newfound weight she has on her shoulders. There's a constant inner-battle present . . . trying to do what's right and what's best for Earthens and Lunars, while saving herself from becoming the very person she's trying to overthrow.
• Kai . . . I pity him. It's a lose-lose situation for him. Marry Levana, have his people enslaved, and die. Or refuse Levana, have his people massacred and enslaved, then die. Sounds peachy, doesn't it?
• Scarlet & Wolf . . . oh, my heart aches for them. It really does. Out of all the characters, I think Scarlet drew the shortest end of the stick and this is one of those moments were death is probably the most merciful route. And that would just break Wolf. I cry inside . . . and a little on the outside, too.


"He froze, becoming stone still. As the hover climbed the hill to the palace, his shoulders sank, and he returned his gaze to the window. "She's my alpha," he murmured, with a haunting sadness in his voice.

Alpha.

Cress leaned forward, propping her elbows on her knees, "Like the star?"

"What star?"

She stiffened, instantly embarrassed, and scooted back from him again. "Oh. Um. In a constellation, the brightest star is called the alpha. I thought maybe you meant that she's…like…your brightest star." Looking away, she knotted her hands in her lap, aware that she was blushing furiously now and this beast of a man was about to realize what an over-romantic sap she was.

But instead of sneering or laughing, Wolf sighed, "Yes," he said, his gaze climbing up to the full moon that had emerged in the blue evening sky. "Exactly like that."
Going into Cress I thought what else could the author throw at me? What other revelations are left? I thought the shock/twist factor I loved so much in the previous books would probably be lost here. There's only so much you can come up with . . . after a while there are just no more hidden secrets, you know? When you think that everything under the sun has already happened . . . well, Marissa Meyer sure knows how to come up with something(s) . . . and something good. In other words, f*ck me/the characters over royally. I did not see anything coming. Well played, Marissa Meyer, well played.
As for how I'm going to survive until 2015 for the final book, Winter . . . I don't think I will.
"I'm going to Luna, and I'm going to start a revolution."
MY FINAL RATING
★★★★☆ LUNAR STARS
WHO WOULD I RECOMMEND TO?
Anybody who loves a twist on a classic tale. This story definitely won't disappoint! Amazing characters, great writing, captivating story . . . you can't go wrong with this one!
WHAT DO YOU THINK? HAVE YOU READ CRESS OR ANY OF THE OTHER BOOKS IN THE SERIES? WHO'S YOUR FAVORITE CHARACTER? LEAST FAVORITE? WHAT DO YOU THINK WINTER'S BOOK WILL BRING? I'D LOVE TO HEAR YOUR THOUGHTS!