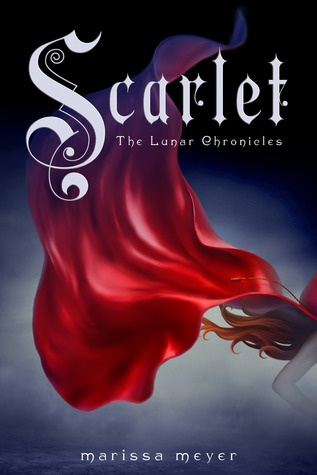 Scarlet by Marissa Meyers
Published: February 5th 2013 by Feiwel & Friends
Pages: 452
Genres: Young Adult, Fantasy, Science Fiction, Romance, Dystopia
Part Of A Series? Yes! Scarlet is book two in The Lunar Chronicles
Other Books From Author: Heartless
Why Did I Choose This Book? Cinder was amazing. Ergo, Scarlet MUST be amazing. I usually don't read a book in a series one after the other, but I can't help myself this time. I have a consuming thirst for answers!
Amazon | Barnes & Nobles | Audible | Kobo | iBooks
SO, WHAT'S THIS ABOUT?
Cinder, the cyborg mechanic, returns in the second thrilling installment of the bestselling Lunar Chronicles. She's trying to break out of prison–even though if she succeeds, she'll be the Commonwealth's most wanted fugitive. Halfway around the world, Scarlet Benoit's grandmother is missing. It turns out there are many things Scarlet doesn't know about her grandmother or the grave danger she has lived in her whole life. When Scarlet encounters Wolf, a street fighter who may have information as to her grandmother's whereabouts, she is loath to trust this stranger, but is inexplicably drawn to him, and he to her. As Scarlet and Wolf unravel one mystery, they encounter another when they meet Cinder. Now, all of them must stay one step ahead of the vicious Lunar Queen Levana, who will do anything for the handsome Prince Kai to become her husband, her king, her prisoner.
REACTION UPON FINISHING
MY THOUGHTS
She did not know the wolf was a wicked sort of animal, and she was not afraid of him.
First thoughts:
Who the f*ck is Scarlet and why am I reading about her? I don't care about her! I need to know what's going on with Cinder! Now!!
Not one of my finest moments, I must say, especially because I ended up loving this book. And Scarlet. And Wolf.
I'm pretty sure I should be a little worried about how quickly I've been eating this series up. Or maybe my reading hiatus was longer than I thought because I'm practically inhaling these books. I can't get enough of the characters, the secrets, the revelations.


This was how Levana did it. She kept a hold on her people by tricking their eyes and their hearts. She ruled with fear, yes, but also with adoration. It would be easy to abuse a person when they never recognized it as abuse.
So, Queen Levana did not ship her ass back to her own planet and mind her own business like I wanted her to. No, she just made a disaster of things, as I'm sure she's cackling about. We know she's practically salivating for a marriage alliance with Emperor Kai under that glamour of hers and will stop at nothing, pull out all the stops in order to get it.
Scarlet was badass. I loved her kind, compassionate, shotgun-weilding character. Who doesn't love a MC who can take care of themselves? I also loved how open-minded she was. While everyone was quick to condemn Cinder, Scarlet was much more sympathetic and progressive in her thinking. That instantly garnered my respect.


"I lied to you about a lot of things," he said finally. "But I meant every apology."
♥ Wolf ♥ . . . major heart eyes going on over here. He was timid and anxious, yet so protective. I loved it.
I think Marissa Meyer did I wonderful job building the chemistry between Scarlet & Wolf. This is a Young Adult novel, so you can't rely on dirty talk and NC-17 scenes to get your audience fanning themselves. It's all in the longing glances, the stolen touches, the brushing of lips . . . and boy, did I eat it up.


"I realized that I would rather die because I betrayed them, than live because I betrayed you."
What my impatient self didn't know before starting Scarlet was that it was going to be told in multiple POVs . . . which meant we were going to see a lot more of Cinder & Kai.
Cinder has one hell of a task ahead of her. She's learned more about herself and her past and now, she just needs to figure out what she wants to do with it. Not what others think she should do with it.
Kai has the weight of his empire on his shoulders . . . and one thing I can say with complete confidence after reading Scarlet is that I would not want to be him.
We get introduced to a new character in Scarlet, Cadet *smirks* Captain Carswell Thorne. He was my favorite addition to the series.


"We're having a another moment, aren't we?"

"If by moment, you mean me not wanting to strangle you for the first time since we met, then I guess we are."
He was always making me laugh at his stupid comments and reactions.
A few things to touch up on:
• It was really interesting to see how Cinder's story and Scarlet's story overlapped. Everything's connected and it was fun to put all the pieces together.
• Although there are a lot of unanswered questions left, we get a good amount of answers in Scarlet . . . which led to more questions but *shrugs* sadly, we can't get everything we want, can we?


"Wolf, are you asking me to be … your alpha female?"

He hesitated.

Scarlet couldn't help it – she burst into laughter. "Oh – I'm sorry. That was mean. I know I shouldn't tease you about this."

Still grinning, she made to retract her hand, but he was suddenly gripping it, refusing to relinquish the touch. "You just look so scared, like I'm going to disappear any minute. We're stuck on a spaceship, Wolf. I'm not going anywhere."

His lips twitched, his nervousness beginning to ease away, though his hand stayed tense over hers.

"Alpha female," he murmured. "I sort of like that."

Beaming, Scarlet gave a mild shrug. "It could grow on me."
All in all, this was a perfect companion to Cinder and I can't wait to know what's going to happen next. Marissa Meyer, you have me eating out of the palm of your hand. I hope you're happy!


". . . I'm going to stop hiding."
Off to book 3, Cress, like the junkie I've become!
MY FINAL RATING
★★★★★ HOOKED STARS
WHO WOULD I RECOMMEND TO?
Anybody who loves a twist on a classic tale. This story definitely won't disappoint! Amazing characters, great writing, captivating story . . . you can't go wrong with this one!
WHAT DO YOU THINK? HAVE YOU READ SCARLET OR ANY OF THE OTHER BOOKS IN THE SERIES? WHO'S YOUR FAVORITE CHARACTER? LEAST FAVORITE? I'D LOVE TO HEAR YOUR THOUGHTS!