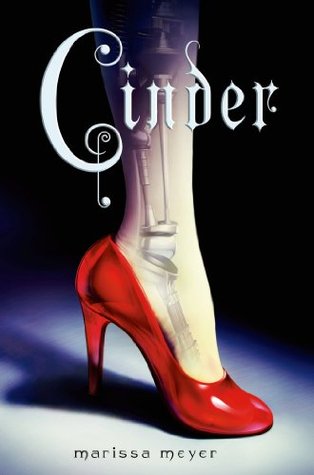 Cinder by Marissa Meyers
Published: January 3rd 2012 by Feiwel & Friends
Pages: 390
Genres: Young Adult, Fantasy, Science Fiction, Romance, Dystopia
Part Of A Series? Yes! Cinder is book one in The Lunar Chronicles
Other Books From Author: Heartless
Why Did I Choose This Book? Every since my very sad book slump, Young Adult seems to be the only thing keeping my interest. I found this little gem on Goodreads and thought, why not? Best. Decision. Ever. The cover may or may not have swayed my decision just a bit. I can't help the heart eyes I get whenever I see a gorgeous cover . . . and with such an interesting concept, I was a goner.
Amazon | Barnes & Nobles | Audible | Kobo | iBooks
SO, WHAT'S THIS ABOUT?
Humans and androids crowd the raucous streets of New Beijing. A deadly plague ravages the population. From space, a ruthless lunar people watch, waiting to make their move. No one knows that Earth's fate hinges on one girl.
Cinder, a gifted mechanic, is a cyborg. She's a second-class citizen with a mysterious past, reviled by her stepmother and blamed for her stepsister's illness. But when her life becomes intertwined with the handsome Prince Kai's, she suddenly finds herself at the center of an intergalactic struggle, and a forbidden attraction. Caught between duty and freedom, loyalty and betrayal, she must uncover secrets about her past in order to protect her world's future.
REACTION UPON FINISHING
MY THOUGHTS
"Even in the Future the Story Begins with Once Upon a Time."
Nine hours. Nine hours is what it took me to finish this book. If that isn't a testament to how much I liked Cinder then I don't know what is. I literally finished this story in one sitting. Hell, I haven't even eaten a single thing since I picked up this book. I was just consumed with the need to know what would happen next.


"She was a cyborg, and she would never go to a ball."
So, Cinder is Cinderella's story . . . with a twist. And I do love my twists.
I thought Cinder made a great female MC. She's someone you're constantly rooting for and sympathizing with. While I would have lost my head, Cinder knew when to choose her battles. Which makes her much smarter than me because I would have been six feet under . . .
Despite her circumstances, she never struck me as weak. She was incredibly strong and resilient and managed to keep a good sense of humor, which always goes a long way with me.


"I don't know. I don't actually remember anything from before the surgery."

His eyebrows rose, his blue eyes sucking in all the light of the room. "The cybernetic opetation?"

"No, the sex change."

The doctor's smile faltered.

"I'm joking."
Prince Kai and Iko were amazing characters as well. I found myself going swoony over the prince and Iko was like the android best friend I never had.


"Prince Kai! Check my fan, I think I'm overheating."
You and me both, Iko, you and me both.
These three wonderful characters perfectly complimented the deep-seated hatred I now have for Adri and Queen Levana.
Queen Levana can ship her ass back from where she came from and keep to herself. Adri . . . you can go with her. They tried my patience every single time they showed up. But not in a 'what poor characterization' kind of way. More like 'what amazing villains,' you know what I mean? The type of characters you love to hate.
Cinder isn't just about a cyborg that wants to go to a ball, though. It's much more complicated than that. There's war, there's disease, there's pain and heartbreak.


Subjects had been carted in from provinces as far reaching as Mumbai and Singapore to act as guinea pigs for the antidote testing. It was made out to be some sort of honor, giving your life for the good of humanity, but it was really just a reminder that cyborgs were not like everyone else.
I thought I was signing up for an entertaining, but simple, story. That is not what Marissa Meyer had planned. By the halfway mark, theories were running rampant in my head. Which only fueled my need to finish the book and figure out exactly what was going on and what was going to happen. Hence my unintentional fasting.
So yeah, you could say I liked this one 😉


. . . they would be looking for a ghost.
I'm off to book two . . . Little Red Riding Hood!
MY FINAL RATING
★★★★★ GENIUS STARS
WHO WOULD I RECOMMEND TO?
Anybody who loves a twist on a classic tale. This story definitely won't disappoint! Amazing characters, great writing, captivating story . . . you can't go wrong with this one!
WHAT DO YOU THINK? HAVE YOU READ CINDER OR ANY OF THE OTHER BOOKS IN THE SERIES? WHO'S YOUR FAVORITE CHARACTER? LEAST FAVORITE? I'D LOVE TO HEAR YOUR THOUGHTS!