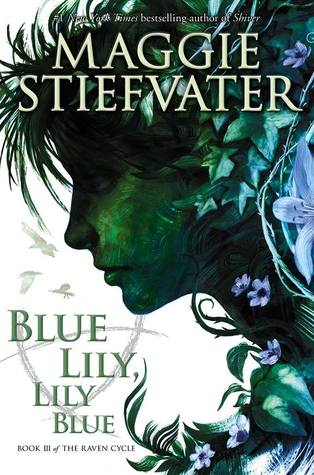 Blue Lily, Lily Blue by Maggie Stiefvater
Expected Publication: October 21st 2014 by Scholastic Press
Pages: 416
Genres: Young Adult, Fantasy, Paranormal, Romance, Mystery
Part Of A Series? Yes!! Blue Lily, Lily Blue is book 3 in the Raven Cycle series
Other Books From Author: The Wolves of Mercy Falls series, Books of Faerie series, The Scorpio Races
Why Did I Choose This Book? I'm a HUUUUUGGEEEE fan of Maggie Stiefvater and her books . . . so maybe I'm a little biased. But I just love, love, love that cover ♥ the colors, the art . . . perfection!
Amazon | Barnes & Nobles | Kobo | iBooks | Google Books
SO, WHAT'S THIS ABOUT?
There is danger in dreaming. But there is even more danger in waking up.
Blue Sargent has found things. For the first time in her life, she has friends she can trust, a group to which she can belong. The Raven Boys have taken her in as one of their own. Their problems have become hers, and her problems have become theirs.
The trick with found things though, is how easily they can be lost.
Friends can betray.
Mothers can disappear.
Visions can mislead.
Certainties can unravel.
[space]
REACTION UPON FINISHING

(a combination of "this is genius" & "damn you, Maggie Stiefvater")
MY THOUGHTS
Soon it would be behind him. Soon this school year, too would be behind him. Soon they would find Glendower, soon they would all be kings. Soon, soon.
I'm still awestruck by how incredible that was. I had ridiculously high expectations for this book . . . so high that I pretty much set Blue Lily, Lily Blue up for failure. And yet, Maggie Stiefvater still managed to astound me.
I am such a huge fan of this series. I feel like I could reread these books for years and still find something new to be fascinated by. The story and characters are so complex that you can't help but be sucked right in. It's been some loooooonnnngggg, torturous months since I finished The Dream Thieves and I was able to sink into the story as if I had started this series yesterday.


"It is not the outside of people that bothers me, but the inside."
Blue Lily, Lily Blue and the rest of the Raven Cycle series has a really unique story. Yes, it deals with the paranormal . . . witches, clairvoyance, etc. but Stiefvater puts an extraordinary twist on a simple concept, that you can't compare it to anything else.
The characters are so real and so layered that you immediately form and attachment to them. They're constantly evolving and growing and I'm constantly learning something new about them and trying to catch up. They take a life of their own and I've become such a hardcore fangirl.


What a lie unknowable was. The only person who didn't know Adam was himself.
I love how, although there is romance in this series, it doesn't take up its entire focus. I usually like my books heavy on the lovey-dovey stuff but this story is strong enough to stand on its own. Don't get me wrong, it's always welcome *nudges author with not so subtle hint* but I'm just as entranced by the story.
Maggie Stiefvater has a gift for storytelling and the writing in Blue Lily, Lily Blue was beyond amazing. She creates such witty and organic characters that she even has me liking the villains. If I had a physical copy, half it's weight would be due to all the highlighter ink that would've been used. That's how much I love her writing. Instead, I have an endless scroll of quotes on my iPad.
So, just some things . . .
1. [spoiler] Ronan x Adam –> I will not rest until this happens. [spoiler]
2. Oh, Noah . . . we see the least of him out of all the Raven Boys but he holds a special place in my heart. He's so fragile that I just want to take him in my arms and never let anything happen to him again.
3. Adam . . . surprised me. He really grew as a character and I felt like a proud mom watching him mature *sniffles a little*
4. Ever since The Dream Thieves, Ronan has had my heart and will forever have my heart. He can be an asshole, but I just take that as a sign that he cares.
5. Gansey x Blue –> it seems so hopeless and inevitable . . . I don't know whether to cheer for that or rage over the fact that if they ever act on their feelings it'll all end in disaster. Raven Cycle without Gansey = death of my heart . . . Raven Cycle without Blue x Gansey = death of my heart . . . I have a problem here.
I could literally dedicate a whole review on why they belong together. Happy . . . in love . . . ALIVE.


"And then we never speak of it again," Gansey said, mocking himself softly, and Blue was so glad of it, because she had played the words from that night over and over in her mind and wanted to know he had, too.
All in all, book 3 is just another reason why I love this series so much and why it will always be my favorite.


. . . what she didn't realize about Blue and her boys was that they were all in love with one another. She was no less obsessed with them than they were with her, or one another, analyzing every conversation and gesture, drawing out every joke into a longer and longer running gag, spending each moment either with one another or thinking about when next they would be with one another.
***A copy was generously provided by Scholastic via NetGalley in exchange for an honest review***
FACTORS FOR RATING
★★★★★ OUT OF THIS WORLD STARS
+ The story was incredibly unique and is nearly impossible to get bored of
+ The characters are so engrained into your heart that their pain is your pain, their happiness is your happiness . . . you literally live and breathe these characters
+ The writing pulls you in and doesn't let go. It's hilarious, captivating and no matter how dark things may get, it keeps the story light
WHO WOULD I RECOMMEND TO?
EVERYBODY. ANYBODY. RIGHT NOW.
HAVE YOU READ THIS SERIES? WHAT DO YOU THINK? WHO'S YOUR FAVORITE CHARACTER? DO YOU HAVE ANY PREDICTIONS FOR THE FINAL BOOK? I'D LOVE TO HEAR YOUR THOUGHTS!