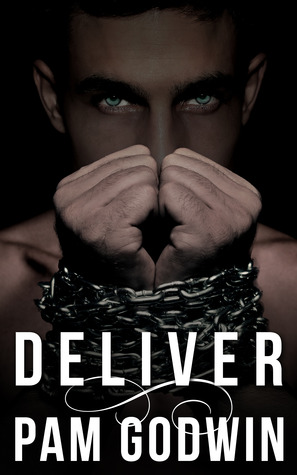 Deliver by Pam Godwin
Published: February 26th 2014
Pages: 316
Genres: Dark, Adult, Erotica, Romance, Contemporary, Suspense
Part Of A Series? Yes!! This is book 1 in the Deliver series
Other Books From Author: Trilogy of Eve, Take the Heat, Breakaway, Make Me: Twelve Tales of Dark Desire, and Beneath the Burn
Why Did I Choose This Book? Vanquish (book 2) was just released and has been blowing up my Goodreads feed. I figured it was time for me to jump on the Deliver train and give this series a shot!
Amazon | Kobo | Barnes & Nobles | Goodreads
REACTION UPON FINISHING
MY THOUGHTS
She was stolen innocence, following the rules of monsters. Somewhere along the way, she'd become one.
Deliver was absolutely captivating. Not once did I want to put it down, but when I did, it was all I could think about.
He'd unwittingly jumped from his path and fallen onto someone else's.

This book had me on the edge of my seat. My heart would race whenever I sensed trouble and I was just as paranoid as Liv and Josh. The author had me rooting for them and I had a mini panic attacks whenever I thought something was going to get in the way of their HEA.


"You will learn, practice, and become the twelve requirements demanded by your Master."
At first glance, Liv seemed like a monster. I mean, how could we not see her as that? She's a Deliverer. But even with that in the forefront of your mind, you know there's something deeper there. That things aren't quite so black and white. It was a constant struggle between thinking how can someone do this to another human being? to what would you be willing to survive and protect those closest to you? The more you get to know Liv, the more you realize that she's not the cold, heartless bitch you'd think would come with the title Deliverer.
Josh, oh Josh. He was so innocent and pure ♥ it physically hurt to read about his capture . . . and all because he wanted to help a poor girl stranded in the middle of nowhere. It was hard to see such a pure intention lead to something so ugly. And even after his capture he was strong and resilient. He never let them wear him down, and instead focused his energy in trying to lower Liv's shields. Josh just made my heart and ovaries melt.


At the end of the day, she was just as trapped as the boy.
Van is a very complicated character. On one hand he was a terrible, sadistic bastard with the face of an angel, but on the other hand, he was misguided and even remorseful in his own way. Van was both intriguing and terrifying, which left me wanting to peel back the layers and see past his heartless side.


She moved with the grace of a dancer, lithe and muscular, shifting over his privates as if she were floating. For a thick moment, he was convinced he'd found an angel. The he remember she was his captor, a rapist, the devil incarnate.
Liv and Josh had a very unconventional relationship and start. It wasn't something that was built off love, trust, and/or respect. They had a foundation of fear, pain, and betrayal. However, it was touching to read how they were able to slowly mend each other and, eventually, find solace in one another.
It was her masked persona, the Deliverer who performed without mercy or emotion. To enforce training. To deliver punishments.
This book instantly stood out to me because of it's different dynamic. I'm used to reading books where the guy has the power and is the trafficker/trainer and the girl is the helpless slave but I really liked how, in Deliver, the tables were turned.
This story was everything I was looking for . . . dark, gripping, and angsty. This is the first book I've read from this author and I can definitely say she's made a fan out of me. Pam Godwin,
♥ My casting for Josh & Liv ♥
FACTORS FOR RATING
★★★★☆ BE MY CAPTIVE stars
+ Delvier instantly grabbed my attention and did not let go. I loved the feeling of being so immersed and invested in a story that my heart would pound when something was about to happen.
+ The characters were very complex and left you conflicted (in a good way)
+ The concept was something different than one I'm used to and added a little originality to the story.
WHO WOULD I RECOMMEND TO?
Dark romance lovers, this is perfect for you! It has the perfect balance of everything . . . it was dark & gritty but could also be sweet and romantic ♥ And book 2 is out, so you can immediately hop right into Van's book!
HAVE YOUR READ THIS? WHAT DID YOU THINK ABOUT THE CHARACTERS, ESPECIALLY VAN? DID YOU EXPECT THAT TWIST AT THE END? IF NOT, HAVE YOU READ ANY OF THE AUTHOR'S OTHER BOOKS? I'D LOVE TO HEAR YOUR THOUGHTS!