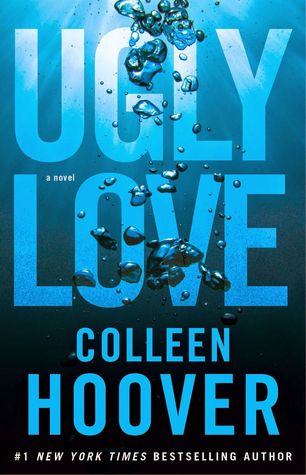 Ugly Love by Colleen Hoover
Published: August 5th 2014 by Atria Books
Genres: New Adult, Romance, Contemporary
Part Of A Series? Nope
Other Books From Author: Slammed series, Hopeless series, Maybe Someday
Why I Picked This Up? This is Colleen Hoover. Enough said 😉
Amazon – Barnes & Nobles – Audible – Kobo
SO, WHAT'S THIS ABOUT?
When Tate Collins meets airline pilot Miles Archer, she doesn't think it's love at first sight. They wouldn't even go so far as to consider themselves friends. The only thing Tate and Miles have in common is an undeniable mutual attraction. Once their desires are out in the open, they realize they have the perfect set-up. He doesn't want love, she doesn't have time for love, so that just leaves the sex. Their arrangement could be surprisingly seamless, as long as Tate can stick to the only two rules Miles has for her.
Never ask about the past.
Don't expect a future.
They think they can handle it, but realize almost immediately they can't handle it at all.
Hearts get infiltrated.
Promises get broken.
Rules get shattered.
Love gets ugly.
REACTION UPON FINISHING
WHAT I THOUGHT
Colleen Hoover creates magic with a few simple words. She makes me say to hell with my responsibilities, just so that I don't have to part with this book. She makes you laugh and cry, fall in love and feel pain. You really can't go wrong with her.
"Love isn't always pretty, Tate. Sometimes you spend all your life hoping it'll eventually be something different. Something better. Then, before you know it, you're back to square one, and you lost your heart somewhere along the way."
Ugly Love is made up of multiple POVs. We start of with Tate (present day), Miles (past), and towards the end Miles (present day). Colleen Hoover's writing, especially when flashing back to Miles past, kind of reminded me of Ellen Hopkins style of writing. And you can either pull it off and really add to the story . . . or you can't and the book becomes irritating to read. And the writing here was far from irritating.


I bite my bottom lip to keep from smiling as much as I want to smile right now. He leans forward and takes my lip into his mouth, pulling it apart away from my teeth. He kisses it for a few seconds, then releases it. "Don't bite that again," he says. "I like seeing you smile."
What some books need in order to make a steamy scene (chapters of foreplay, dirty talk, and sex), Ugly Love accomplished with just a few stolen glance and light knee touches. The tension between Tate and Miles was so thick you could practically cut through it.
I really liked Tate. She was strong and even though she might not have been the wisest, I was glad she was at least self-aware. I loved how she brought humor to some tough and awkward situations and her relationship with her brother was heartwarming. They were a hilarious pair.


"No don't hang up. Just put the phone in your pocket, but don't hang up."
I look down at the oversized shirt and leggings I have on. "No pockets. You're going in the bra."
Corbin makes a gagging sound as I pull the phone from my ear and shove it inside my bra.
Miles just broke my heart. I can't even imagine the pain he suffers with. I mean, I don't think anything compares to the pain of what he (and others who've been in similar situations) went through. That kind of pain is close to unbearable so, although he could act like a real asshole at times, I could understand his reasoning.


"Everyone wants love," I say. "Or at least sex. It's human nature."
"Most people can't have one without the other," he says. "So I find it easier to give up both."
Ugly Love was a heartbreaking, yet heartwarming, story about pain, love and forgiveness. I'd recommend this to anyone who wants a beautiful, move-you-to-tears, kind of story ♥
The only thing negative I have to say is that I felt the ending was just a little bit rushed. But that's just me nitpicking so don't pay attention to me.


"I didn't fall in love with you, Tate. I flew.
My casting for Elizabeth Tate Collins and Miles Mikel Archer
FACTORS FOR RATING
★★★★★ UGLY LOVE STARS
+ Writing. In typical CoHo style, the writing is humorous and flows perfectly. It's easy to get lost in the story with such beautiful writing.
+ Characters. Nicely thought out characters that you could relate to and sympathize with.
+ Tension. CoHo created a palpable tension between the characters with something as simple as heated glances and light touches.
WHO WOULD I RECOMMEND TO?
If you want a heartbreaking story with a witty character and a damaged hero this is for you. It's very well-written and doesn't leave you devastated at the end. A perfect summer read!
HAVE YOU READ THIS? WHAT ARE YOUR THOUGHTS? DID YOU ENJOY IT AS MUCH AS COLLEEN HOOVER'S OTHER BOOKS? IF YOU HAVEN'T READ THIS, IS THIS SOMETHING YOU'D CONSIDER PICKING UP? I'D LOVE TO HEAR YOUR THOUGHTS!