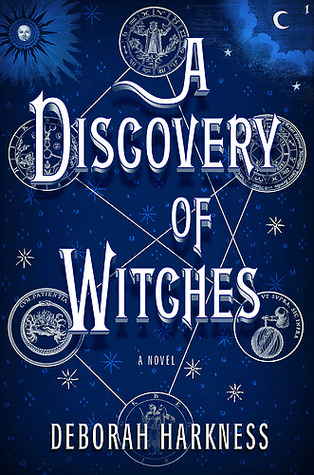 A Discovery of Witches by Deborah Harkness
Published: February 8th 2011
Genres: Fantasy, Romance, Adult
Part Of A Series? Yes!! This is book one in the All Souls Trilogy
Why I Picked This Up: Can you believe that I had been going on my merry way without knowing this amazing book existed? I finally noticed it when book 3 was published and it was all over my feed. After that I had no choice but to investigate 😉
Amazon – Barnes & Nobles – Kobo – iBooks – Google Play
SO, WHAT'S THIS ABOUT?
A richly inventive novel about a centuries-old vampire, a spellbound witch, and the mysterious manuscript that draws them together.
Deep in the stacks of Oxford's Bodleian Library, young scholar Diana Bishop unwittingly calls up a bewitched alchemical manuscript in the course of her research. Descended from an old and distinguished line of witches, Diana wants nothing to do with sorcery; so after a furtive glance and a few notes, she banishes the book to the stacks. But her discovery sets a fantastical underworld stirring, and a horde of daemons, witches, and vampires soon descends upon the library. Diana has stumbled upon a coveted treasure lost for centuries-and she is the only creature who can break its spell.
Debut novelist Deborah Harkness has crafted a mesmerizing and addictive read, equal parts history and magic, romance and suspense. Diana is a bold heroine who meets her equal in vampire geneticist Matthew Clairmont, and gradually warms up to him as their alliance deepens into an intimacy that violates age-old taboos. This smart, sophisticated story harks back to the novels of Anne Rice, but it is as contemporary and sensual as the Twilight series-with an extra serving of historical realism.
REACTION UPON FINISHING
WHAT I THOUGHT
"It begins with absence and desire. It begins with blood and fear. It begins with a discovery of witches."
Well, hot damn that was a lot better than I expected.
Some things other readers didn't like:
◆ Insta-love/lust. Yes, I can see why Matthew & Diana's relationship could be categorized as insta-love. I think the reason it didn't bother me was that there were other things going on. There relationship, although obviously part of the book, wasn't the book. It also, for being insta-love, progressed pretty slowly. I'm so used to stories where the main couple meet and by the end of the week, they're frick fracking like their lives depend on it.
Here it went more like:
Me: "Oh, they're going to do it! . . .
. . . it's happe- wait what? No! Don't put your shirt back on, come back! Don't leave me in this state!
◆ Diana. Yes, Diana was a sad little flower that didn't want to be a witch and I could understand why. Her parents were killed [spoiler] because of their power [spoiler] so it made sense to me that she would want to cut magic out of her life. Also, when you get further into the book, you learn that it's really not her fault, at all.
◆The story was hard to follow. I thought it was pretty easy to follow but there were some parts where I understood why some thought it was a bit difficult.
In the end, I loved it. I was captivated by the story. The author took a concept like witches, vampires, and daemons and put an original spin on it.
Matthew was the best and made it to my book bf list. Diana didn't have me eye-twitching with frustration. And I was left wanting to read book 2.
I couldn't have asked for more 🙂
My casting for Diana & Matthew
FACTORS FOR RATING
★★★★★ SUPERNATURAL STARS
+ Easy to read. Sometimes, I just need an easy, light (but still kickass) read. And A Discovery of Witches delivered.
+ Had many concepts that worked (when they usually don't). Insta-lust/love, a super heroine ignoring her super-ness, etc. This all should have made me cringe . . . but it didn't. It actually worked for the story 🙂
WHO WOULD I RECOMMEND TO?
Someone who wants a quick, romantic, in-between-books kind of read. This is like a supernatural Da Vinci Code (Dan Brown). If you like the supernatural . . . and you like Dan Brown . . . *hands you book*
HAVE YOU READ THIS? WHAT DID YOU THINK? DID ALL THESE THINGS WORK FOR YOU, OR DID IT FALL FLAT? IF YOU HAVEN'T, IS THIS THE SORT OF BOOK YOU WOULD CONSIDER PICKING UP? I'D LOVE TO HEAR YOUR THOUGHTS!