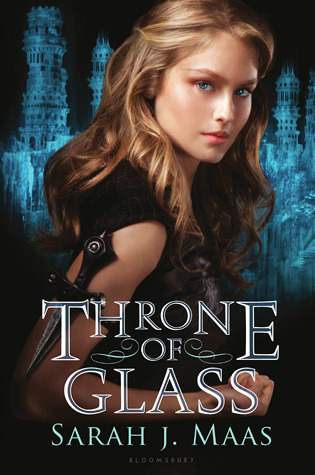 Throne of Glass by Sarah J. Mass
Published: August 7th 2012
Pages: 404
Genres: Young Adult, Fantasy, Romance
Part Of A Series? Yes! Book 1 in the Throne of Glass series
Other Books From Author: A Court of Thorns and Roses series
Why I Picked This Up: It's been on my TBR for a while and I was craving some kickass Fantasy.
Amazon – Barnes & Nobles – Audible – Kobo – iBooks –  Google Books
SO WHAT'S THIS ABOUT?
After serving out a year of hard labor in the salt mines of Endovier for her crimes, 18-year-old assassin Celaena Sardothien is dragged before the Crown Prince. Prince Dorian offers her her freedom on one condition: she must act as his champion in a competition to find a new royal assassin. Her opponents are men-thieves and assassins and warriors from across the empire, each sponsored by a member of the king's council. If she beats her opponents in a series of eliminations, she'll serve the kingdom for three years and then be granted her freedom.
Celaena finds her training sessions with the captain of the guard, Westfall, challenging and exhilirating. But she's bored stiff by court life. Things get a little more interesting when the prince starts to show interest in her… but it's the gruff Captain Westfall who seems to understand her best.
Then one of the other contestants turns up dead… quickly followed by another.
Can Celaena figure out who the killer is before she becomes a victim? As the young assassin investigates, her search leads her to discover a greater destiny than she could possibly have imagined.
REACTION UPON FINISHING
MY THOUGHTS
"My name is Celaena Sardothien. But it makes no difference if my name's Celaena or Lillian or Bitch, because I'd still beat you, no matter what you call me."
I'm so glad I was persuaded into reading Throne of Glass because I'd never have picked it up on my own . . . and would've completely missed out.
"We all bear scars, Dorian. Mine just happen to be more visible than most."

It took me a while to connect to some of the characters, especially Celaena. She definitely took some getting used to. Sometimes she could be a little irritating and rude, so it took me a while to connect with her and the book. But she grew on me eventually and by the halfway point I was even starting to like her. You got to see behind the (semi)playful remarks and sympathize with her.
There was something great and deadly concealed within her, and he didn't like it. He'd be ready– when the time came, he'd be waiting. He just wondered which one of them would survive.
Then, of course, there's Chaol and Dorian. Chaol is more of the broody, silent but caring one while Dorian is almost like the guy version of Celaena. Witty, playful and with a gentler side. The jury's still out on which one I'm rooting for . . . can it be both? 😉
And the sexual tension. Oh, the sexual tension.


"Aren't you afraid of me?" She glanced at his sword belt. "Or are you as deft at handling your sword as Captain Westfall?"
He stepped closer, tightening his grip. "Better," he whispered.
When you really start getting into the story, you become invested in the characters. Whether the author was making me love a character or hate a character, I was enjoying it because I was feeling something.
Throne of Glass was a slow-build kind of story but quickly starts to pick up. And the last 30% left my heart pounding!
As for the love triangle, anybody who knows me knows I can't stand them. If I even get a whiff of a love triangle it's haste la vista to that book. However, the story wasn't centered around her love life. And dare I say the love triangle was actually . . . nice?
In my opinion the author handled it perfectly.


"You never voice your troubles, though your eyes betray them."
FACTORS FOR RATING
+ The Love Triangle. As an avid hater of love triangles, I can't believe I'm saying this. Surprisingly, it added to the story. Gave it a little angst 😉
+ The Writing. I could have made a whole review just out of highlighted quotes. That's how good it was.
+ The Story. Throne of Glass was unique and had a store that kept me interested from the first page.
– Celaena. She took a lot of patience but she makes it up towards the middle & end. I just wish she could have been a little less irritating in the beginning.
WHO WOULD I RECOMMEND TO?
If you want a entertaining fantasy with an interesting plot and light love triangle, then look no further. With each book the series gets better and better!
HAVE YOU READ THIS? WHAT ARE YOUR THOUGHTS? WHAT DID YOU THINK OF CELEANA? WHO DO YOU PREFER SHE END UP WITH, DORIAN OR CHAOL? WHAT DO YOU THINK IS TO COME IN BOOK 2? IF YOU HAVEN'T READ IT, IS THIS SOMETHING YOU'D CONSIDER READING? I'D LOVE TO HEAR YOUR THOUGHTS!