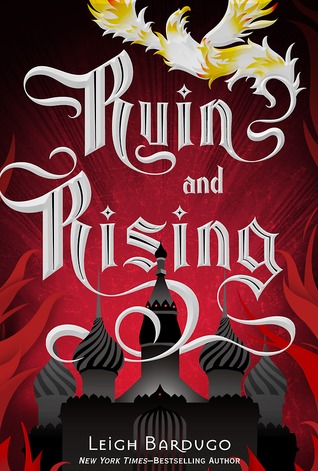 Ruin & Rising by Leigh Bardugo
Published: June 17th 2014
Pages: 417
Genres: Fantasy, Romance, Young Adult
Part Of A Series? Yes!! The 3rd a final book in the Grisha series ♥
Other Books From Author: The Dreg series
Why I Picked This Up: Coming down form the high of book 1 & 2 I knew there was no way I was going to pass up an opportunity to read book 3. This series has made me a HUGE fan of Leigh Bardugo's writing!
Amazon – Barnes & Nobles – Audible – Kobo –  iBooks – Google Books
SO WHAT'S THIS ABOUT?
The capital has fallen.
The Darkling rules Ravka from his shadow throne.
Now the nation's fate rests with a broken Sun Summoner, a disgraced tracker, and the shattered remnants of a once-great magical army.
Deep in an ancient network of tunnels and caverns, a weakened Alina must submit to the dubious protection of the Apparat and the zealots who worship her as a Saint. Yet her plans lie elsewhere, with the hunt for the elusive firebird and the hope that an outlaw prince still survives.
Alina will have to forge new alliances and put aside old rivalries as she and Mal race to find the last of Morozova's amplifiers. But as she begins to unravel the Darkling's secrets, she reveals a past that will forever alter her understanding of the bond they share and the power she wields. The firebird is the one thing that stands between Ravka and destruction—and claiming it could cost Alina the very future she's fighting for.
REACTION UPON FINISHING
MY THOUGHTS
"If only I'd known you'd prove such an apt pupil."
☆
This was an incredible conclusion to The Grisha trilogy! It was a fast-pased, emotional, twist-filled read that had me turning the pages faster and faster, yet reluctant to finish Alina's story.
"You might make me a better man."
"And you might make me a monster."
You won't find any two-dimensional characters here. Leigh Barduga creates intricate characters that are always facing challenges (external and internal), always developing… which sucks you into the story.
I've read plenty of books where the characters are black & white. They're either all good or completely evil. There's no in between. But with this book I didn't know what to think. Some characters did horrible things, but then showed you a more human, vulnerable side and it had me going weak.
As much as I wanted to hate the Darkling, and a part of me does after all the atrocious things he's done, [spoiler] those last words don't let me die alone… say my name [spoiler]still managed to break my heart.
What can I say about Mal? The author was drowning me in intense feels with him. From the beginning, I was going back and forth between him, the Darkling, and eventually Nikolai. Mal was her childhood friend (and who doesn't love the friends-to-lovers story?), the Darkling was the 'bad boy' and someone Alina could (reluctantly) relate to, and Nikolai . . . well, it's hard no to fall for his charm.
Side characters like Zoya, Genya, Toyla and Tamar were all great additions to the story. I don't think it would have been the same without them. Together, they were a great group.
"He'd been in my head, waged a war on my heart."
"Don't tell me this is all happening for a reason," I said fiercely. "Or that it's going to be okay. Don't tell me you're ready to die."
He met my gaze, his blue eyes steady. "It's not going to be okay." He brushed the hair back from my cheeks and cupped my face in his rough hands. "None of this is happening for a reason." He skimmed his lips over mine. "And Saints help me, Alina, I want to live forever."
Despite how light-hearted this book can seem at times because of the quick-witted characters and dialogue, Ruin & Rising was intense. I felt every character's desperation, hopelessness, and need. Leigh Bardugo knows how to play with your emotions expertly and by the end of the book I was crying 😦


"We'll find another way," I whispered.

Mal's fingers separated, but he kept my wrist in a loose hold as he drew me closer. I felt as I always had in his arms—complete, like I was home. But now I had to question even that. Was what I felt real or some product of a destiny Morozova had set into motion hundreds of years ago?

Mal brushed the hair from my neck. He pressed a single brief kiss to the skin above the collar.
"No, Alina," he said softly. "We won't."
This is one of the best trilogies I've read, ever. It has everything I could've asked for– humor, romance, angst, action… I'm just sad to see this story come to an end.


"Know that I loved you," she said to him. "Know that it was not enough."
"He did not see the moment the girl ceased to bear her weakness as a burden and began to wear it as a guise."
FACTORS FOR RATING
+ The concept. Leigh creates such a vivid and exciting, albeit dangerous, world and you're helpless to get sucked into it. Despite it's heavy elements of fantasy, The Grisha series feels real and easily relatable.
+ The characters. Whether good or bad each one of them is easy to connect to. They aren't two dimensional. Each one has layers upon layers making you think that some are good people making bad decisions, bad people making good decisions, or just a victim to birth, situation, or being in the wrong place at the wrong time
+ The writing. You really can't have an out-of-this-world story without out-of-this-world writing, now can you? Leigh's characters are witty and interesting… leaving you with wonderful quotes. Leigh has a gift for writing.
My song for The Grisha trilogy: My Body Is A Cage– Peter Gabriel
---
WHO WOULD I RECOMMEND TO?
Anybody. Everybody. That's how good this trilogy was.
---
Leigh Bardugo was born in Jerusalem, raised in Los Angeles, and graduated from Yale University. These days, she hides out in Hollywood and indulges her fondness for glamour, ghouls, and costuming in her other life as makeup artist L.B. Benson.
Her debut novel, Shadow & Bone (Holt Children's/Macmillan) is now a New York Times Best Seller.
She would be delighted if you followed her on Twitter, elated if you visited her web site, and downright giddy if you liked Shadow & Bone on Facebook.
Website – Twitter – Facebook – Goodreads
HAVE YOU READ THIS? WHAT ARE YOUR THOUGHTS? DID YOU LIKE THE ENDING? IS THIS HOW YOU EXPECTED ALINA'S STORY TO END? IF YOU HAVEN'T READ IT, WOULD THIS BE SOMETHING YOU'D BE INTERESTED IN READING? I'D LOVE TO HEAR YOUR THOUGHTS!