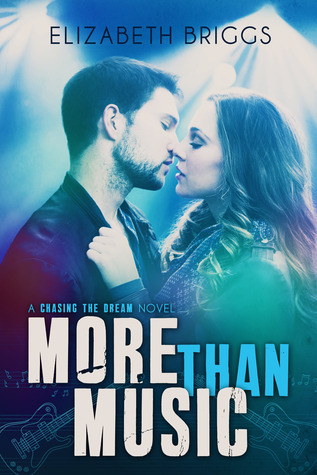 More Than Music by Elizabeth Briggs
Published: June 17th 2014
Pages: 199
Genres: Contemporary, New Adult
Part Of A Series? Yes! It's book one in the Chasing the Dream series
Other Books From Author: None, this is her debut series!
SO WHAT'S THIS ABOUT?
Music major Maddie Taylor seems to have her life all figured out. She's just finished her junior year of college, has a summer internship lined up with the LA Philharmonic, and plans to go to grad school to write movie scores. Only her roommates know she practices guitar every night and secretly dreams of a louder life. But geeky girls like her don't get to be rock stars.
Tattooed singer Jared Cross has a new girl every week, but when he catches Maddie playing one of his songs, she attracts his attention in an unexpected way. His band needs a fourth member for The Sound, a reality TV show competition—and he wants her. Though Maddie refuses to be another notch on Jared's bedpost, she agrees to risk everything for the chance to be a rock star.
Once on the show, Maddie discovers there's more to Jared behind his flirty smile, and with each performance their attraction becomes impossible to ignore. When the show pressures Jared to flaunt his player image, they're forced to keep their relationship secret, but Maddie can't help but want something real.
As the competition heats up, Jared will do whatever it takes for his band to win, and Maddie must decide if following her dream is worth losing her heart.
TEASER
Jared slid his arm into mine, and every nerve in my body woke up. "Come on, I'll take you back to your room. I need to walk off some of this energy before bed anyway."
"You don't need to do this," I said as we moved to the elevator together. "I can get back by myself."
"I'm not going anywhere until I make sure you get to your room safely. I can't have my guitarist injuring herself again." He winked and hit the elevator button while I leaned against him, taking comfort in his strength. His breath ruffled my hair as he quietly added, "Besides, I'm worried about you."
The elevator door opened, and we stumbled in. "Really, Jared, I'm fine. It's just a twisted ankle, not that big a deal—"
The door shut and his lips were on mine, cutting me off mid-sentence. His kiss was tentative and searching, a question he wanted me to answer, but I was so surprised I just stood there while my brain caught up to what was happening.
He pulled away and ran a hand through his dark hair. "Sorry. I've wanted to do that forever, and when I saw you fall…"
My mouth opened but no sound came out. I swallowed and tried again. "You've wanted to do that forever?"
"I know it's a bad idea. We have to stay single while we're on the show, and the guys would kill me if they found out, and you're into that Sean guy anyway…" His voice trailed off, and he looked away.
I'd never seen Jared be anything but cool and confident, and it sent a thrill through me, knowing I'd done that to him. The elevator didn't move, waiting for us to hit a button, but suddenly I didn't want to go back to my room anymore. I grabbed the collar of Jared's jacket and pulled him down to my mouth, kissing him hard, showing him that he was the one I wanted.
We broke apart long enough for me to whisper, "It is a bad idea, but I don't care."
"Good. Because I can't resist you any longer." And then our mouths met again.
We kissed like we were drowning and our only hope of living was each other. He devoured my mouth with his tongue and lips while I tangled my fingers into his thick hair, drawing him closer. Knowing we shouldn't be doing this only gave our passion a desperate edge, a recklessness that had us gasping and clawing at each other, like we had to cram everything into this one brief moment we were alone. His hands slid down to cup my butt and lift me to his height, my back slamming against the side of the elevator, my skirt riding up to my hips. While he pinned me to the wall and teased me with his mouth, I smoothed my hands across his rough jaw, down his neck, along his broad shoulders. After weeks of fighting my desire for Jared, I needed to touch every inch of him, with my fingers, with my lips, with my entire body.
The elevator started moving, though neither of us had pushed a button. It said, "Lobby," and reality came crashing back, like a bucket of water had been tossed on us. We broke apart to opposite corners, breathing heavily. I yanked my skirt down just as the door opened.
PLAYLIST

Enter to win (1) ebook copy of More Than Music by Elizabeth Briggs (open internationally)

Enter to win (1) signed paperback of More Than Music + bookmarks & (1) paperback copy of FIFTY FIRST TIMES: A New Adult Anthology
Elizabeth Briggs is a full-time geek who writes books for teens and adults. She plays the guitar, mentors at-risk teens, and volunteers with a dog rescue group. She lives in Los Angeles with her husband and a pack of small, fluffy dogs.
Website –  Facebook –  Twitter – Goodreads