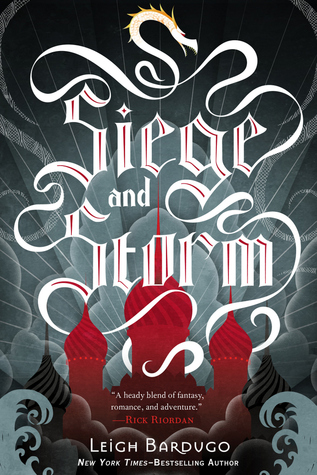 Siege & Storm by Leigh Bardugo
Published: June 4th 2013 by Henry Holt & Co
Pages: 432
Genres: Fantasy, Romance, Young Adult
Part Of A Series? Yes!! The Grisha series ♥♥♥
Other Books From Author: The Dregs series
Why I Picked This Up: Book One was AHHMAAAZINGGG so I had to pick up Book Two. Leigh Bardugo is an excellent storyteller and creates the most fascinating worlds & tales. This series also comes highly recommended and has great reviews
Amazon – Barnes & Nobles – Audible – Kobo – iBooks – Google Books
SO WHAT'S THIS ABOUT?
Darkness never dies.
Hunted across the True Sea, haunted by the lives she took on the Fold, Alina must try to make a life with Mal in an unfamiliar land. She finds starting new is not easy while keeping her identity as the Sun Summoner a secret. She can't outrun her past or her destiny for long.
The Darkling has emerged from the Shadow Fold with a terrifying new power and a dangerous plan that will test the very boundaries of the natural world. With the help of a notorious privateer, Alina returns to the country she abandoned, determined to fight the forces gathering against Ravka. But as her power grows, Alina slips deeper into the Darkling's game of forbidden magic, and farther away from Mal. Somehow, she will have to choose between her country, her power, and the love she always thought would guide her–or risk losing everything to the oncoming storm.
REACTION UPON FINISHING
HERE ARE MY THOUGHTS…
"This isn't hope, I thought. It's madness. It's hunger, need, desperation."
The only thing that was going through my mind once the book came to an end was: holy shit that was intense. If you haven't read Siege and Storm or the first book Shadow and Bone then drop everything and go pick it up!
Does the bird feel the weight of its wings?
It's hard to put into words the absolute epicness of this book. I don't think I have a single complaint. The writing was brilliant and ensnares you from page one. Leigh Bardugo makes you feel everything. And I really do mean makes you. I felt each characters' hunger, need, desperation. I was immersed in their troubles, mounting pressures, heartbreaks…
From the beginning there is a steady build. The building blocks stack atop each other one by one until you get to the end where you know there's going to be a climax to end all climaxes. And Leigh did not disappoint. At all. Nothing could have torn me away from this book in those last 80 pages. My house could have caught fire and I would have happily burned down with it, if only just to see what happened next.
Alina "Sankta Alina"
"It's only a nightmare," he whispered. "The dreams will stop." He didn't understand. The dreams were the only place it was safe to use her power now, and she longed for them.
I love Alina as a heroine. She's far from perfect and makes plenty of mistakes but she's real. I love to see her character growth and even though it may not always be good, it was organic. I really connected with her. I felt like I went through everything with her… every heartbreak, betrayal, and realization.
The Darkling
"Like calls to like."
Although we didn't see a lot of him in Siege and Storm *sort of* his presence was still very prominent. I still don't know what to make of him… you think you know him but he only shows you what he wants you to see, so you can never be quite sure about who you're actually dealing with.
There were many other important characters like Mal, Tolya, Tamar, Nikolai, ect… They all played big roles and greatly enhanced the story. Mal brought tension, Nikolai some humor, and Tamar & Toyla some mystery.
"I'm fine," I said. "Really."
"How do you know?"
"I just do. I can feel it."
"You didn't see what I saw. It was–"
"It got away from me. I didn't know what to expect."
He shook his head. "You were like a stranger, Alina. Beautiful," he said. "Terrible."
Siege and Storm tests the strength and balance of things. How much can Ravka take? How much can Alina take without losing herself? Her morals? How far will they all go?So many questions…
This book really is incredible. I'd even go so far as to say it was better than book 1. The concept is fantastic and you can't help but get caught up in the story the author weaves, the characters are organic and, if not lovable, interesting, and the writing just seals the deal.
And that ending… just when you think you might be left with a little bit of piece, Leigh Barduga says nah-uh and slaps a cliffhanger right at the end. I mean, the last few words… are a cliffhanger.
"I've seen what you truly are," said the Darkling, "and I've never turned away. I never will. Can he say the same?"
My song for The Grisha series: My Body Is A Cage– Peter Gabriel
FACTORS FOR RATING
+ The concept. Leigh creates such a vivid and exciting, albeit dangerous, world and you're helpless to get sucked into it. Despite it's heavy elements of fantasy, The Grisha series feels real and easily relatable.
+ The characters. Whether good or bad each one of them is easy to connect to. They aren't two dimensional. Each one has layers upon layers making you think that some are good people making bad decisions, bad people making good decisions, or just a victim to birth, situation, or being in the wrong place at the wrong time
+ The writing. You really can't have an out-of-this-world story without out-of-this-world writing, now can you? Leigh's characters are witty and interesting… leaving you with wonderful quotes. Leigh has a gift for writing.
+ The ending. I have a love/hate relationship with cliffhangers… but Leigh knows how to do them right. You aren't left too devastated and lost but with endless questions and speculations.
WHO WOULD I RECOMMEND TO?
Anybody really, but especially those who like action-packed fantasy stories. This is for you! As for the cliffhanger endings… don't fear *breaks out into dance* the 3rd and final book is released on June 17th 2014. If there was ever a more perfect time to read it, now would be it!
Leigh Bardugo was born in Jerusalem, raised in Los Angeles, and graduated from Yale University. These days, she hides out in Hollywood and indulges her fondness for glamour, ghouls, and costuming in her other life as makeup artist L.B. Benson.
Her debut novel, Shadow & Bone (Holt Children's/Macmillan) is now a New York Times Best Seller.
She would be delighted if you followed her on Twitter, elated if you visited her web site, and downright giddy if you liked Shadow & Bone on Facebook.
Webiste – Twitter –  Facebook – Goodreads
HAVE YOU READ THIS? WHAT ARE YOUR THOUGHTS? WHAT DO YOU THINK ABOUT MAL & ALINA'S RELATIONSHIP, ARE YOU TEAM DARKLING, TEAM MAL, OR PERHAPS TEAM NIKOLAI? WHAT DID YOU THINK ABOUT THE ENDING? HAVE ANY THOUGHTS ON WHAT THE THIRD AND FINAL BOOK WILL BE LIKE? IF YOU HAVEN'T READ IT, WOULD THIS BE SOMETHING YOU'RE INTERESTED IN? I'D LOVE TO HEAR YOUR THOUGHTS!